Using traffic data for strategic location planning decisions
Traffic data often reflects traffic at a static point in time, but using historic trends and reliable future predictions can help you to make strategic location planning decisions and inform your future strategy.
Traffic data has long been a source of insight for data analysts. A reliable traffic count can help analysts to understand the optimal locations for site selection, which intersections are the busiest and may have the highest demand, and where to place branding and advertisements. But it's not without its shortfalls.
Traffic data is often analyzed as either real-time data or actual traffic counts. The way the data is collected differs, but both options provide traffic data at a static point in time.
Data Analyst, Sissi Zhao Lei explains,
This restricts the amount of insight and understanding that can be attained from the data. It is important to look at a time period rather than just a time point. We need to look at data within a certain time frame, in comparison to historical data, to give us a deeper understanding of trends and changes.
Within TrafficMetrix®, current AADT and actual traffic counts are displayed alongside the five previously published traffic counts for each point. Usually, TrafficMetrix® users will then work with this data to identify trends and predict future behavior.
With this in mind, the team behind Kalibrate's TrafficMetrix® introduced five-year projections to enrich the data set. Using a cutting-edge data forecasting model, they can reliably predict trends and changes in traffic volumes – to allow their users to make strategic decisions for long term investment without spending any resources on additional analysis.
Kalibrate has been developing complex volume forecasting models for the petroleum industry for more than 25 years. With a vast data set at their finger tips, Kalibrate's data scientists can harness the power of machine learning and AI to produce accurate five year traffic projections.
Five-year projections are available for the whole of the US and Canada and can help with site selection and location intelligence. Using dependable future traffic projections allows you to create reliable plans and strategies for your business.
Greg Rutan from Trade Area Systems (TAS) explained how traffic data can be combined with other data sets to help inform site selection and location planning decisions:
Many of our clients generate brilliant insights by layering traffic data with other data sets like population layers and demographics. Combining data on ideal customers with traffic data shows them the hot spots within their target audiences — giving them a visual heat map of the busiest areas that their customers frequent and showing them the ideal locations for site investments.

5 Year Projections are ideal for this use as today's traffic levels won't always be relevant for development projects that take time to build. Future projections give real estate departments and retail planners confidence that their strategies are built on concrete data.
Don't base your location decisions on today's data. Plan for the future with TrafficMetrix®.
Contact us to find out more or add five-year traffic count projections to your data sets.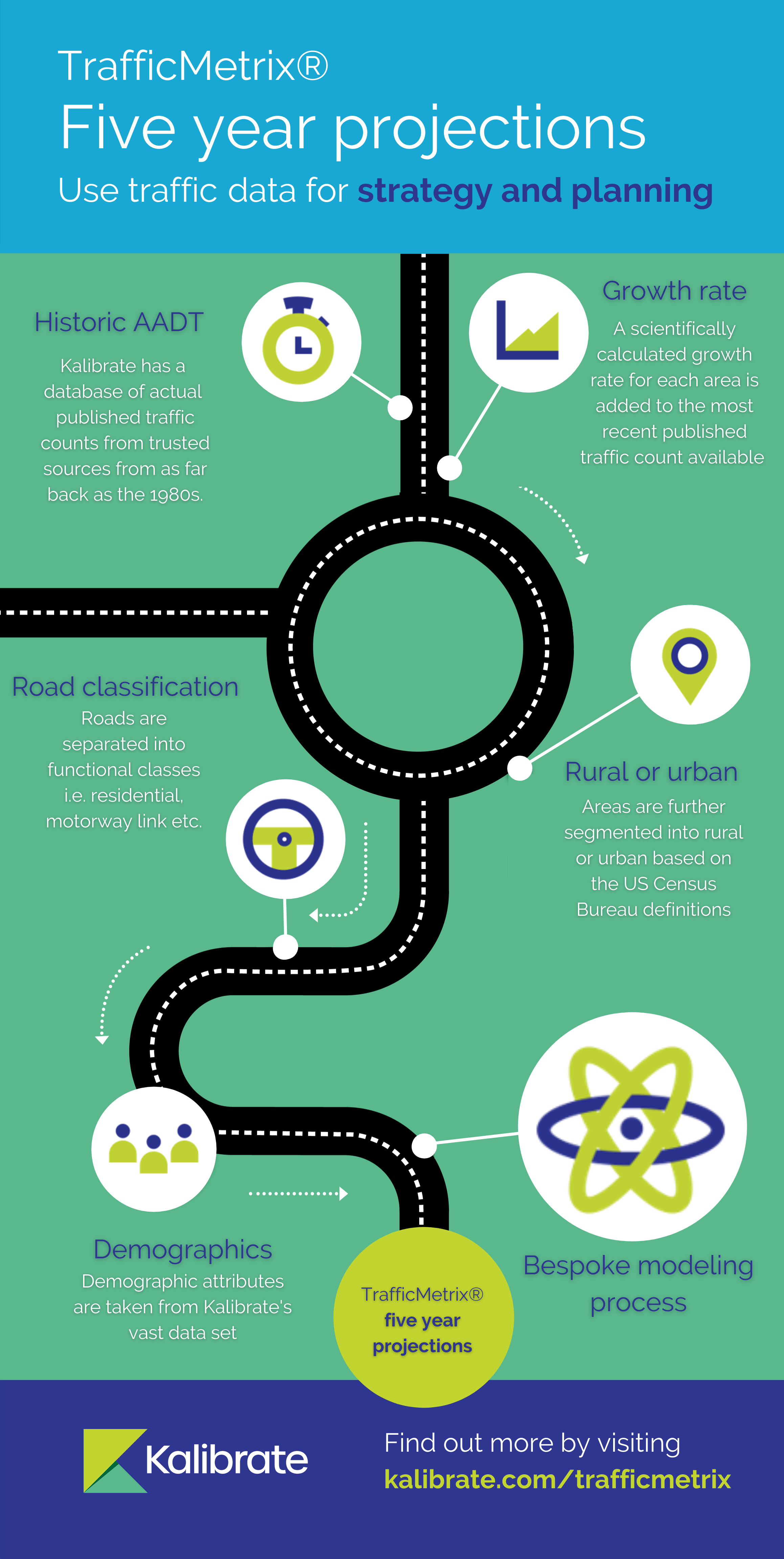 Subscribe and get the latest updates
You may unsubscribe from our mailing list at any time. To understand how and why we process your data, please see our Privacy & Cookies Policy
Start your journey to more informed decisions today
Get in touch to see how Kalibrate could empower your decision-making.