Kalibrate Planning: hints and tips
Your monthly Kalibrate Planning hints and tips.
The Kalibrate team will keep these Kalibrate Planning hints and tips updated monthly, so be sure to check in regularly using our Decision Maker newsletter. If you have any questions, please reach out to a member of our team.
September hints and tips
This month we are highlighting the sharing functionality in Kalibrate Planning.
By default, everything you work on within Kalibrate Planning is saved uniquely to your user which means all your activity and projects will stay private and will not be visible to anyone else in your organisation.
However, there are times when you may wish to share some of your work and make it visible to others.
The two key functions that can be shared across users are simulations and templates.
Templates:
To save time when either modelling new builds or adding specific shop concepts to your site, standard templates can be created. We usually recommend that these templates are managed centrally by one or two people who can maintain them to accurately reflect the different site and shop formats and then shared across the rest of the organisation to maintain consistency.
To share a template, go to the template tab of the simulations screen.

Click the checkbox on the right hand side of the template and them click on the share button at the top of the screen.  The template will then be shared with all the users in your organisation.
To unshare a simulation you can just click the unshare button and the template will once again be only visible to your user.

Simulations:
You may also wish to share simulations either across your organisation or with specific users to get their feedback or as part of an approval process. You can also share simulations with your Kalibrate Customer Success Manager or the Kalibrate Support team to answer any questions you may have around your simulation or the outcome.
To share a simulation, open the simulation screen.

Select the simulation(s) you wish to share by checking the box on the right hand side and then click on the share button.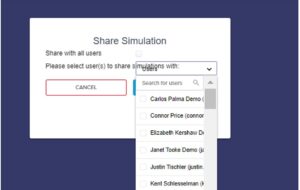 You can then either choose to select all users, in which case all users with access to the market will be able to view the simulation, or select specific users you would like to have access.
Once the simulation has been shared, you will see the sharing state has been updated on the simulation screen to display the simulation with your user being the Owner.  Users you have shared with will then see the simulation the next time they connect and go to the simulations screen where they will see the simulation and which user has shared the simulation with them.
You can also check which users you have shared a simulation with by going to the "More" drop down menu and selecting "View users shared with".

Please note that shared simulations cannot be edited by anyone except the original creator, they are read only for the users that have been shared to.  If you wish to edit a simulation that has been shared to you, please copy the simulation to your user first and then edit the copied simulation.  You can then share the simulation back to the original user if you wish.
To do this, click on the "More" dropdown menu for the simulation you wish to copy, then click on "View Tactics".  Select the tactics you would like to copy, then click on "Copy to" and select New Simulation.  The tactic will be copied to a new Simulation and can now be edited.

If you have any further questions about sharing in Kalibrate Planning or any other functionality, please contact your Customer Success Manager.
Subscribe and get the latest updates
You may unsubscribe from our mailing list at any time. To understand how and why we process your data, please see our Privacy & Cookies Policy
Start your journey to more informed decisions today
Get in touch to see how Kalibrate could empower your decision-making.