Meet the Kalibrate team: Anila Siraj, Head of Data Strategy
"There are always opportunities to innovate and be at the forefront of new initiatives. Take EV charging; it represents such a big change for the market, so being at the heart of the solution that will help our clients manage that change is exciting."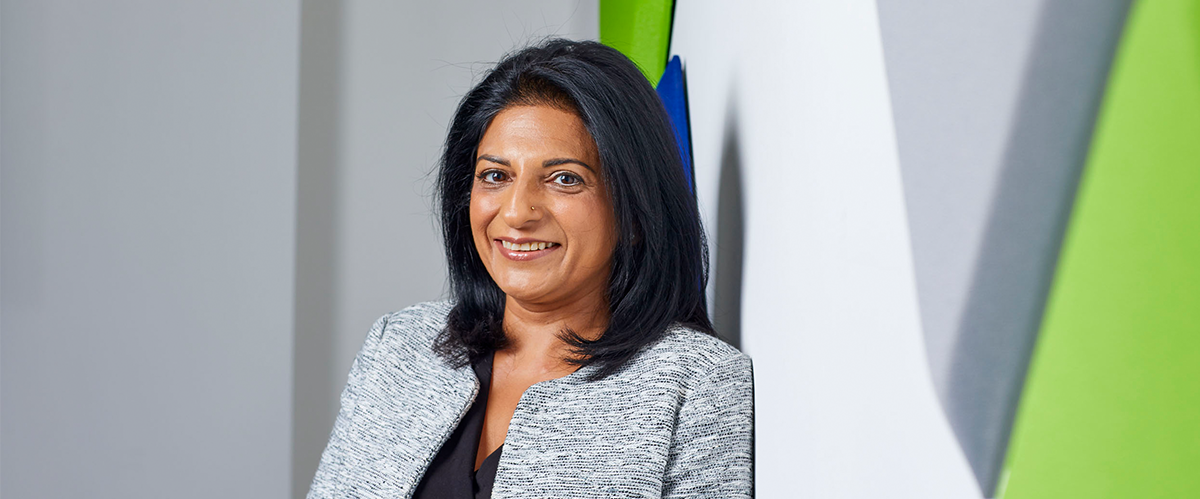 At Kalibrate, we believe our success is driven as much by our people as our technology. Here, we meet Anila Siraj, Kalibrate's Head of Data Strategy and electric vehicle lead.
——————————-
What's your role at Kalibrate?
I'm the Head of Data strategy for the Kalibrate group and the Kalibrate Planning Product. I also lead Kalibrate's electric vehicle (EV) strategy, helping our clients find the optimum locations to place charging facilities, and develop an effective pricing strategy.
What does a typical day look like?
I would say that no day is typical. With the broad scope that I am responsible for, one day can be completely different from the next. There are always a number of new initiatives ongoing that I'm involved in, as well as day to day product, operations and delivery.
A significant part of my time is spent on activities that enhance the product offering to meet market needs, and equip our teams to be able to take solutions to clients. Whether that's developing the data and product roadmaps, working with cross functional teams to deliver on this, or ensuring that we are meeting our client commitments on our planning and data insights.
Kalibrate has expanded quite significantly over the last year, which has brought the opportunity to work with an amazing group of individuals from the acquired businesses. A portion of my day is always spent working with these teams to help identify and deliver on areas that will drive efficiencies and improve effectiveness, whether that is focused around our data sourcing, utilization and delivery, or expanding our offer outside of traditional use cases.
What do you love about your role?
As you can probably tell from the above, no day is the same as the next. It's never boring. There are always challenges to solve and that is what I like doing best — 'making it happen'.
There are always opportunities to innovate and be at the forefront of new initiatives. Take what we're doing with EV charging; it represents such a big change for the market, so being at the heart of the solution that will help our clients manage that change is exciting.
I also love the diversity, the growth, and the fact that the company embraces change, there is always more to do and more to learn. With the continued expansion of the Kalibrate Group, we have more expertise across a wider range of sectors. It's fast-paced most of the time, but rewarding when you take a step back to look at how our solutions have developed and how we're improving what we deliver to clients.
Why did you choose to join Kalibrate?
I've been with Kalibrate 25 years.  When I joined, I was still completing my postgraduate, then something about Kalibrate just got me, the products and the people, the travel. I have had more than ten roles in that time, and traveled the globe.  Each role has brought new challenges, new opportunities, and new knowledge, and each destination has brought new experiences, and new insights into different cultures both at a personal level and the way they do business.
What do you think are the greatest challenges and opportunities
for fuel and convenience retailers?
Understanding how consumers will change post-pandemic is going to be a big one — particularly for convenience. It's a fine balance between responding to a greater focus on value and convenience, much of which has come from online habits becoming ingrained, while simultaneously creating a compelling brick and mortar offering.
Having insight to power decisions in response to changing consumer need will separate those that adapt well from those that struggle. Planning strategies will change, and flying blind will be even less viable that it was before. It's represents a challenge for some and an opportunity others – it largely depends how equipped and willing they are to be adaptable.
At Kalibrate, our acquisitions have placed us in a strong position to help clients navigate this change. That could be through enhancing our data collection processes by using the world-class data ingestion and management tools of TAS, or by expanding our modelling capabilities to meet the needs of the changing landscape. We're anticipating the next opportunity to give clients the insight to make the right decision faster, whatever their model.
Where do you see electric vehicle market heading – and how will that impact charger placement strategies?
The uptake of EVs has remained stable throughout the past twelve months, even as ICE engine sales have declined. Adoption is only going one way — particularly as EV models are starting to hit parity with ICE models. When you factor in the various incentives offered by governments and an improving (though admittedly still patchy in places) charger network, the case for buying an EV over an ICE is likely to get stronger each year.
For business considering a charger strategy, they need to understand their market because adoption rates vary so much across different locations. But the opportunity is big. Kalibrate has conducted extensive research into EV drivers and those considering buying an EV. For example, we found that 59% of EV drivers spend more at businesses that offer charging facilities.
Understanding mobility data across your network to identify priority locations is a natural starting point. We're already working with a number of clients in this area. But there are more considerations beyond purely where to locate charging.
The typical wait time for EV charging is around 15 minutes, so charger placement strategies must include facilities that make sites into a destination. Simply placing chargers without an understanding of what you intend to do with your customer won't suffice, especially if the competition successfully combines optimal placement with a compelling destination offering.
——————————-
Want to know more about electric vehicles? Download The Electric Opportunity, our exclusive report into the EV market.
Subscribe and get the latest updates
You may unsubscribe from our mailing list at any time. To understand how and why we process your data, please see our Privacy & Cookies Policy
Start your journey to more informed decisions today
Get in touch to see how Kalibrate could empower your decision-making.