Petroleum pricing in Canada — the Q2 2022 report
Yet again, for the third consecutive quarter, we are reporting all-time highs for retail gasoline and diesel prices in Canada as refining margins continued to increase – in fact, they've almost doubled since the beginning of the year. 
In June, Canadian crude prices reached an all-time high, having risen 36.2 cents per litre since the end of 2021. The Canadian gasoline refining margin reached an all-time high of 51.5 cents per litre in June, 22 cents per litre higher than the end of the last quarter.
This past quarter, higher gasoline pump prices led to lower North American demand as consumers sought conservation methods and averted optional trips. Despite gasoline demand trending below levels from a year ago during the second quarter, gasoline inventories have contracted as refinery production lagged demand. 
So what happens next?
Looking ahead to the next quarter, crude price volatility is likely to continue as opposing factors push and pull crude prices up and down. The ongoing war in Ukraine will continue to affect crude inventories, pressuring prices higher, while an impending global recession and the continuous emergence of various COVID-19 variants threaten crude oil demand pressuring prices lower. 
Read the full report from Kalibrate Canada to get detailed insight on Canadian petroleum pricing in the last quarter, including: 
A gasoline and diesel market overview

 
Find out how prices have changed across the nation — with a breakdown of the final pump price, and an explanation of supply, demand, and other influencing factors. 
The market outlook for Q3 2022

 
Read Kalibrate's analysis on how volatility will affect the market — and Canadian pump prices in 2022 
Why retail prices are rising faster than crude prices in Canada 

 
We delve into the rate of price increases across the years, and why things have shifted in the last quarter to see retail prices rise at a faster rate than crude prices.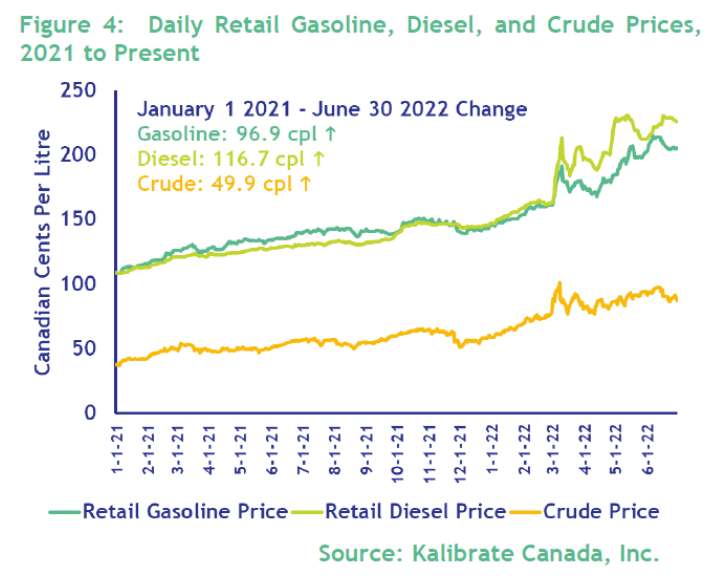 Download and read the full report for an in-depth understanding of the Canadian fuel market and the drivers for the record highs in Canadian petroleum pricing. 
Subscribe and get the latest updates
You may unsubscribe from our mailing list at any time. To understand how and why we process your data, please see our Privacy & Cookies Policy
Start your journey to more informed decisions today
Get in touch to see how Kalibrate could empower your decision-making.