Petroleum pricing in Canada — the Q1 2022 report
For the second quarter in a row, we are reporting all-time highs for retail gasoline and diesel prices in Canada as crude prices rise and refining margins expand — particularly for diesel — which nearly doubled in March from levels a year ago.
Canadian retail prices have reached extraordinary heights in the first quarter of 2022. This has been the result of several compounding factors, including higher crude prices, higher taxes, and higher refining margins.
Global crude oil markets began the year in what was already considered a tight market as world petroleum demand had outpaced supply through much of the later half of 2021, leading to contracting crude oil inventories. As geopolitical tensions escalated, curtailing crude production, Canadian crude prices reached unprecedented levels by March — having risen over thirty cents per liter from the end of 2021.
So what happens next?
Looking forward to Q2 we're likely to see Canadian gasoline pricing rise further throughout Spring as demand picks up again. An increase in carbon taxes on April 1st in several provinces will add to retail petroleum prices, but other provinces have introduced lower taxes to bring relief from the rising pump prices over the coming months.
With global instability from conflict issues and COVID continuing to impact large economies, fuel price volatility is set to continue.
Read the full report from Kalibrate Canada to get detailed insight on Canadian petroleum pricing in the last quarter, including:
A gasoline and diesel market overview
Find out how prices have changed across the nation — with a breakdown of the final pump price, and an explanation of supply, demand, and other influencing factors.
The market outlook for Q2 2022
Read Kalibrate's analysis on how volatility will affect the market — and Canadian pump prices in 2022
Record retail petroleum prices — the Canadian perspective
We look back over the past 30 years to show historic trends in gasoline and diesel pump prices, taxes, refinery capacity, and stock — to analyze the changes that have led to the record highs we're currently seeing.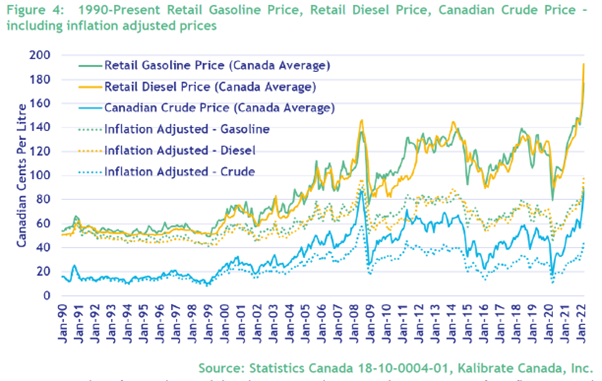 Download and read the full report for an in-depth understanding of the Canadian fuel market and the drivers for the record highs in Canadian petroleum pricing.
Subscribe and get the latest updates
You may unsubscribe from our mailing list at any time. To understand how and why we process your data, please see our Privacy & Cookies Policy
Start your journey to more informed decisions today
Get in touch to see how Kalibrate could empower your decision-making.