Electric vehicle chargers: strategic fit
To understand whether EV charging is a good fit for your wider business strategy, you need to start with your customer profile. But it's just as important to understand how you'll scale and be ready to adapt when we reach mass adoption.
While EV adoption continues to gather pace, a range of businesses from conventional fuel retailers to convenience brands and grocery chains, among others, are all weighing up the viability of adding charging facilities to their locations.
One of the key considerations for real estate professionals across industries is understanding how EV charging fits within the wider brand and location strategy. Factors influencing decision-making include a brand's customer profile, scalability, and market maturity.
Know your customer
For some, the alignment of customer profile with EV adoption curve will be obvious and failure to provide charging facilities will see the competition get ahead. Others may find that while their locations are well placed to serve EV drivers, their customer profile may limit the potential to drive in-store revenue at the current phase of adoption. In this instance, installing EV chargers should be done alongside micro-local, site-level reviews of the types of products and services offered to maximize the revenue generation potential.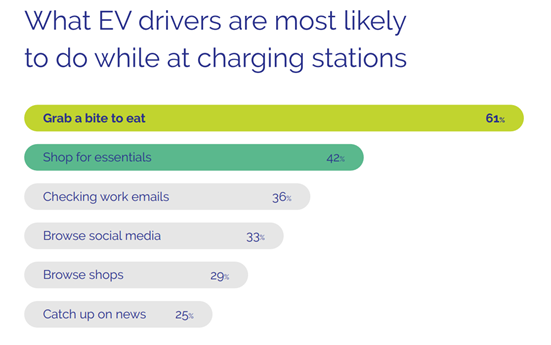 Where businesses are seeking to be more aspirational with their customer profile or project a more positive corporate social identity, EV charging is a service provision that could support that goal. The growth of environmental concerns in consumers' values should not be underestimated.
Our research indicates 67% of consumers say that mass EV adoption is essential for developing a more sustainable way of life, and 66% say that the world would overall be a better place in terms of sustainability if more people drove EVs. For brands keen to align their ethos to this trend in consumer sentiment, EV charging is a clear opportunity to gain visibility and traction.
Thinking big
In terms of scalability, you need to understand how EV adoption will come to impact your network on a location-by-location basis, so you need to know when to act. Move too early and you risk using up prime real estate on charging spaces that could be used for other types of customers. Too late and your competitors may become the charging destination of choice before you've even deployed.
The critical factor is knowing which sites will be impacted when – and an insights-driven approach, led by customer segmentation and mobility data, are key to effective decision making. In your planning, years 1-3 might see a handful of high-potential locations prioritized, but you need to have the resources, supply chains, and processes in place to be able to scale if the data tells you to significantly ramp up installations by year five. You should also consider how you'll track conversion, cross-shop, and loyalty across potentially hundreds of sites, to quantify your return on investment.
Market maturity and charging venues
The rate of EV adoption varies wildly from market to market, state to state, city to city. There will be no one-size-fits-all strategy for EV charger placement. But as markets reach mass adoption, the range of businesses offering EV service provision will diversify as consumer expectations evolve.
So far, we see fuel stations adapting their forecourts, grocery stores added dedicated charging spaces, and destination retail and experience led concepts utilizing charging as an additional draw for early EV adopters. When markets mature, many believe drivers will expect EV charging to be as ubiquitous as Wi-Fi. This means virtually every business that relies on in-store revenue will have to consider the public charging network as part of their site selection process or offer charging on-site themselves.
Willingness to adapt
There are a range of considerations when organizations assess how EV charging plays into their location, marketing, and brand strategies. EV adoption insight will play a critical role in the location planning process, but there are wider strategic considerations around how brands want to be perceived as more and more consumers look favorably on brands that play their part in a more sustainable future. Both adoption and consumer sentiment are fluid, so businesses need to be prepared to adapt and tailor their strategies as EVs become the norm.
When looking at your strategy, ask yourself the questions that will allow you to determine how EV fits with your overall business strategy – from growth plans to brand image? What are the challenges you need to overcome, the opportunities that this may bring, and how do you plan to measure the impact of a broader competitor set?
If you're ready to get started on your EV strategy, speak to Kalibrate or read more about our support here.
Subscribe and get the latest updates
You may unsubscribe from our mailing list at any time. To understand how and why we process your data, please see our Privacy & Cookies Policy
Start your journey to more informed decisions today
Get in touch to see how Kalibrate could empower your decision-making.