EV customer segmentation: The early EV driver
How does the profile of the EV consumer change as we move through the adoption curve – and what impact should this have on retailers' charger strategies?
Electric vehicle adoption varies significantly by region, country and market, but it's all driven by a particular profile of a consumer. So, what does this new breed of driver like? What types of retail experience do they prefer? And, crucially, how does that change as we move through the adoption curve?
Innovators and Early Adopters
As with any adoption curve, the first to take the plunge in the EV market have been the 'Innovators'. This segment are technology enthusiasts. They love to get their hands on the latest tech and are usually the first to try innovations that are truly brand new, and EVs have neatly fallen into a 'tech-led' category.
By the end of 2020, 2.2% of the global fleet of passenger vehicles was EV, bringing us closer to the 'Early Adopters' segment; with some regional variation around where individual markets sit on the curve, for example 17% of the fleet in Norway is EV, and 1.4% of the fleet in the UK is EV.
As this adoption gathers pace, 'Early Adopters' bring a larger spend to the table. EVs will start to become more visible on the road and manufacturers are accelerating production and innovation to capture sales from this wealthier segment.
These two segments represent the early EV consumer. They tend to be affluent and successful. They are brand conscious and well-travelled. A strong interest in environmental and charitable cases is coupled with a desire to live a healthy lifestyle.
Their shopping habits lean towards upscale department stores and grocers. Phone and other electronic products are likely to be prestige, top of the range flagship models. For sports apparel, they're visiting the priciest stores and selecting the more expensive brands.
Generally, they're very receptive to new products and innovations – but as long as they align with their values and goals, which are often about saving time to enjoy finer things in life and greater leisure opportunities.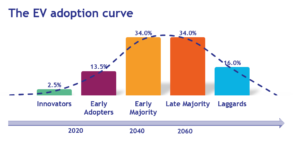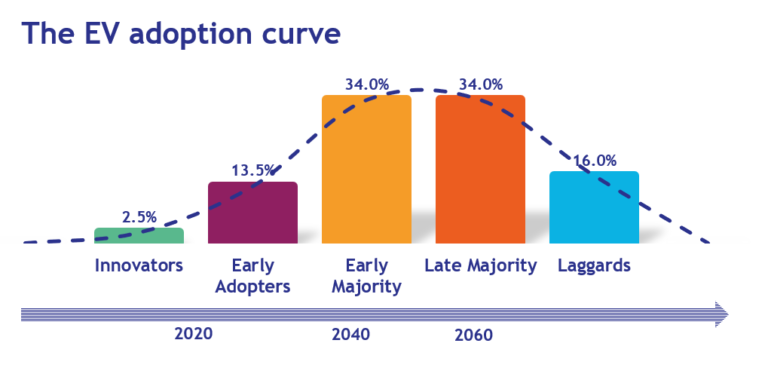 Coming soon: The Early Majority
The next segment is not that far away; we will likely see the arrival of the 'Early Majority' in the 2030's. More mature markets are already experiencing this – take Norway, where EVs reached an 85% share of new sales in June 2021, up from 75% in 2020.
Even in EV markets that are less developed, it's essential that retailers build for now and plan for the future. A successful EV strategy needs to consider the EV driver of today, but also be fit for the market as it evolves through the adoption curve and the consumer changes. This applies as much to where and when businesses place chargers as the retail offering that accompanies it.
At Kalibrate, we're already helping our clients plan their EV charger placement strategy based on how their consumer is projected to change. The 'Innovators' and 'Early Adopters' will soon be joined by the 'Early Majority', and this tipping point to mass ownership is where the bulk of the opportunity will be for most retailers. Of course, those that prosper will have already optimized their portfolio long before the 'Early Majority' arrives. That's why knowing your customer and planning early is the route to success.
Download the Electric Evolution, our report on the EV market in 2022. 
Subscribe and get the latest updates
You may unsubscribe from our mailing list at any time. To understand how and why we process your data, please see our Privacy & Cookies Policy
Start your journey to more informed decisions today
Get in touch to see how Kalibrate could empower your decision-making.