Overhauling Kalibrate's traffic data solutions
Anila Siraj, head of alternative fuels and data strategy at Kalibrate, recently hosted a webinar for the launch of Kalibrate's new TrafficMetrix® product and announced the new partnership with Wejo – connected car data provider.
Watch the Webinar
Kalibrate's original TrafficMetrix® product led the market in terms of depth of historical data, traffic estimates, and 5-year projections for the US and Canada. Historically TrafficMetrix® focused on AADT traffic counts as the source data — however — a new partnership with Wejo has dramatically expanded this traffic data set to increase your level of data decision making.
Feedback from our customers highlighted the need for increased granularity and coverage — and this is exactly what has been addressed with our new TrafficMetrix® premium and pro packages.
Using connected car data, the newly enhanced TrafficMetrix® product has unrivalled coverage across all road types, better segmentation of roads as well as the granular direction of travel, day of the week, and seasonal traffic patterns. All of this is designed to provide increased value in location planning decisions.
From hospitality to healthcare, whatever your sector, whatever your objective, TrafficMetrix® premium and pro are designed to empower better decision making.
The new features
Optimal segmentation
Using our proprietary methodology, we have segmented each road to optimally reflect traffic changes based on traffic turns. This enables better coverage, better traffic flow visibility, and more insight into the traffic movement within your trade area. By combining connected car data with our longstanding AADT database you can answer your most pressing business questions with the right traffic data at the right time and remove the guesswork from traffic data analysis — giving you a complete, holistic view of traffic patterns, enabling greater understanding of traffic behavior, and better comparisons between sites.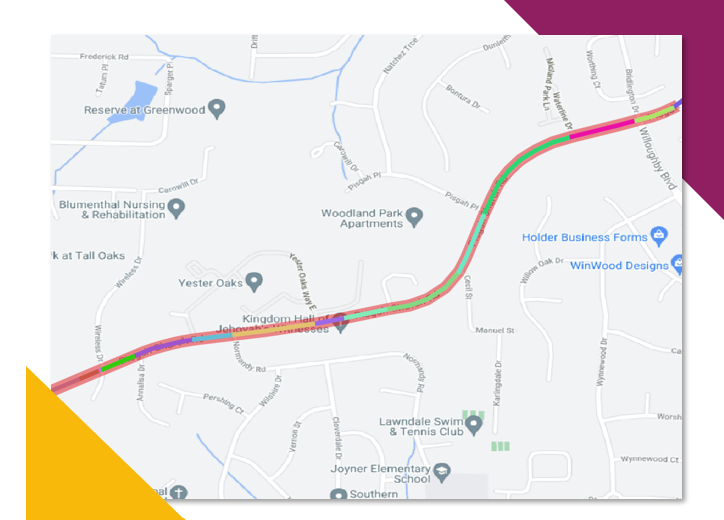 Increased coverage
We have increased the coverage available across motorways, primary, secondary, tertiary, and residential roads.
In this example, we show a 1.5km radius in Central LA, the blue dots show the number of unique roads covered in the original TrafficMetrix® product.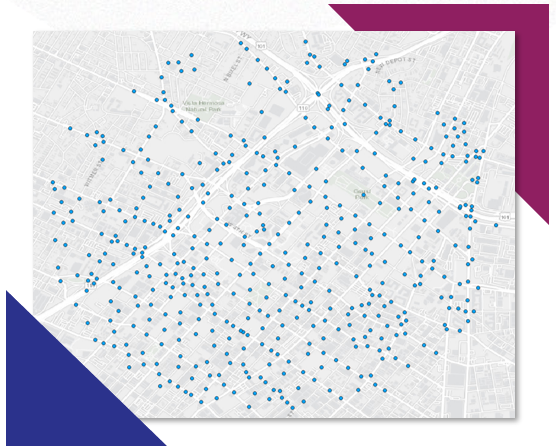 And the red dots below show just how many more roads and road segments are covered in TrafficMetrix® premium and pro.
With extensive coverage across the US, from urban highways to rural lanes— complete coverage and monthly refreshes give you peace of mind that you're making accurate decisions no matter where your location or trade area is.
Increased granularity
For traffic data to be truly useful, it needs to go beyond just the presence of traffic, to pinpoint how it changes over time. That's why TrafficMetrix® offers you more granularity than any other traffic provider in the US.
For every road segment, you'll receive 168 different data points and if you opt for the pro package, you will get these 168 data points by month. Our new packages include everything you'd usually get in TrafficMetrix®, plus hourly traffic counts, including average speed, hard braking, and hard acceleration – broken down by traffic direction for every single road segment. Helping you get a full understanding of traffic behavior – not just traffic presence.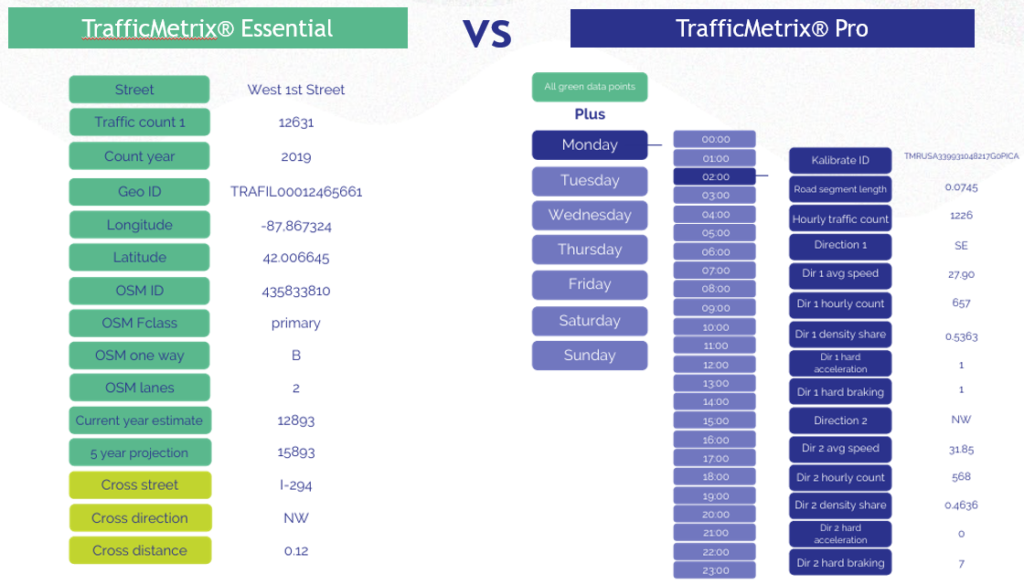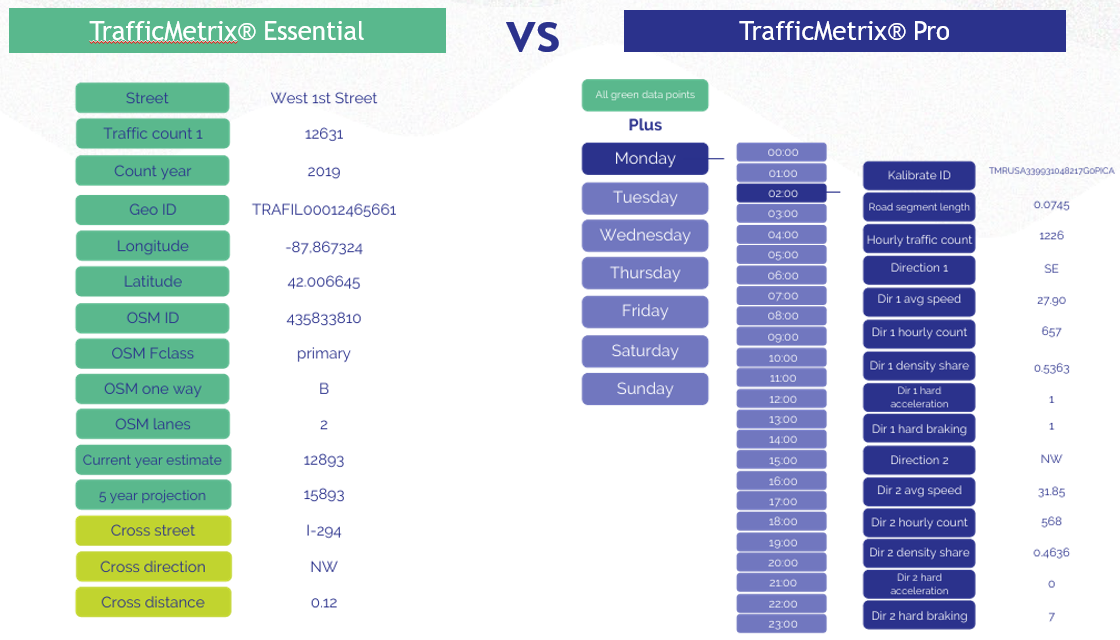 Is TrafficMetrix® right for you?
There are many reasons why you might need to understand traffic volumes and movement patterns within your business or for location planning. Perhaps if you're a retailer considering investment in a new or existing site, you might want to evaluate the percentage of traffic you're pulling off the road, or you may want to adapt your offering around peak traffic times or seasonally.  Or perhaps you're an out of home advertiser trying to determine the amount of traffic that will drive past your billboard, whatever your industry or sector, TrafficMetrix® allows you to make accurate and informed location decisions.
The list of industries that TrafficMetrix® can be applied to is endless, for a greater understanding of how TrafficMetrix® can help you make better data driven decisions request a sample today or speak to one of our sales representatives TrafficMetrix@kalibrate.com
Subscribe and get the latest updates
You may unsubscribe from our mailing list at any time. To understand how and why we process your data, please see our Privacy & Cookies Policy
Start your journey to more informed decisions today
Get in touch to see how Kalibrate could empower your decision-making.