Customer segment management: What you didn't know your marketing analytics team was missing - 2nd Edition
Customer segmentation is an integral part to any marketing campaign. Learn about the advantages of segmentation and how to implement it in the second iteration of customer segment management.
Our first article in this series, which you can find here, introduced the concept of Customer Segment Management – an approach based on defining and measuring the aggregate value to the brand of specific and exclusive customer segments, and changes in customer segment behaviors and values over time. Customer Segment Management works for any brand with known customer data, where purchase activity can be tracked and analyzed at the customer record level.
The graphic below summarizes the ongoing process by which customer behaviors are analyzed, upside revenue potential is estimated, marketing program costs and impacts are forecasted, programs are executed, and results measured:

Behavior segments
First, when establishing customer segments, it is important to keep in mind this approach is based on behavioral segments. Customers are assigned to segments according to their purchase behavior patterns. Possible definitions could include online only purchasers, cross-channel shoppers, occasional purchasers, high-value transactors, lapsed customers, etc. Segments must be exclusive (e.g. each customer is assigned to only one segment) to enable consistency of measurement over time.
Our example segments were established based on the change in customer's total purchase behaviors over two consecutive twelve-month periods, although any time frame could be used:

Once the segments have been established, the next step is determining their total current value:
Notice that the distribution of customers across the segments in this example is relatively flat, which is good. As part of the analysis to develop segments and assign customers, keep this point in mind. Segments that are either too large or too small will obscure insights into the impact of future marketing tactics.
Potential Value
The next step is to determine each segment's potential value. At this stage in the process, it is important to begin blending a bit of art into the science. What changes in frequency and average spend are reasonable to achieve, yet still represent a bit of a stretch? Use your knowledge about promotional tactics that have worked in the past, what kind of changes to your value proposition are planned for the future, insights from qualitative or quantitative research, new product launches, etc. Here's one scenario: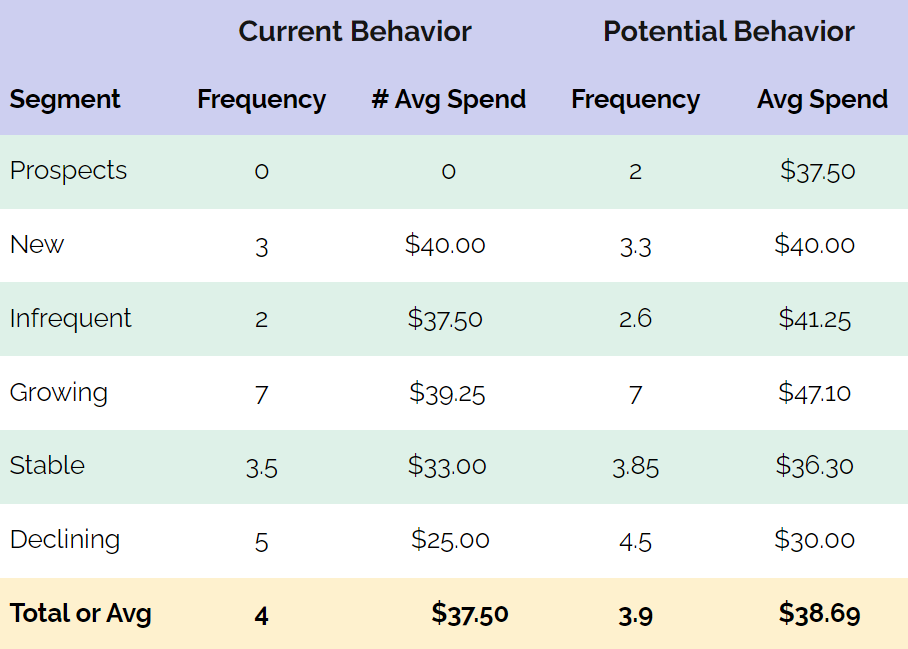 It is important to remember the fact that it's not possible to achieve a behavior change in all customers within each segment. Some segments will respond to the brand's marketing message at a higher rate than others, and not all customers within a given segment will respond.
In order to arrive at a reasonable Value Gap target, apply a discount—in this case we'll call it response rate—to establish a reasonable target: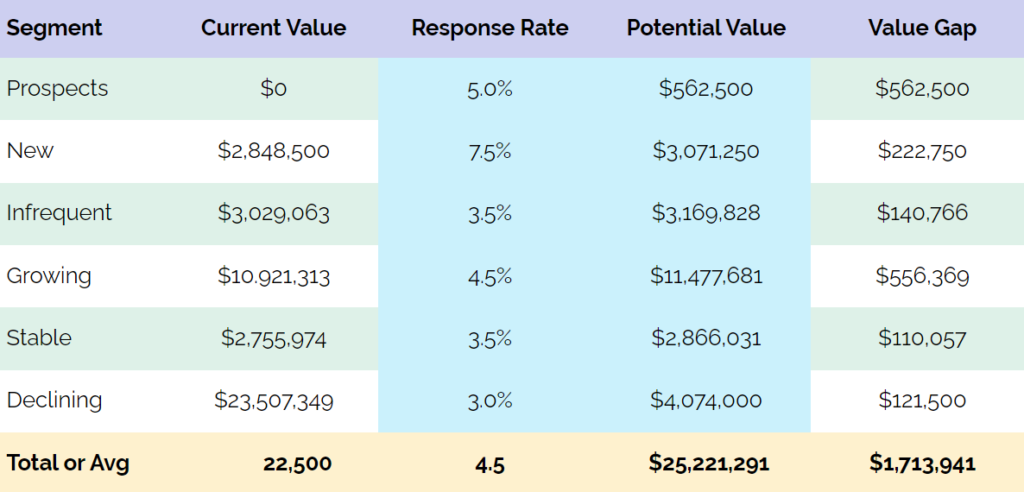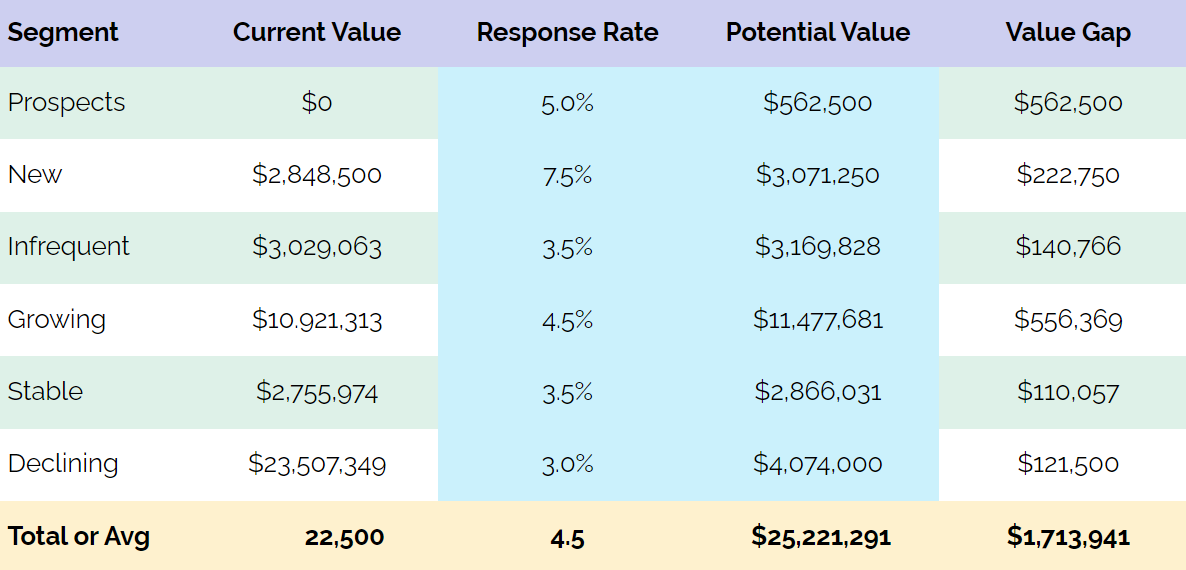 In this example, the Prospect segment accounts for ~33% of the value gap. This seemingly aggressive goal is reasonable because of the use of a predictive customer acquisition model to identify those prospect households that are the most likely to convert.
Once the revenue targets have been established through the value gap exercise, the marketing team next identifies obstacles to achieving the targets for each segment. What hurdles must be overcome in order to meet campaign goals? This is a key step that is both easy to overlook and which demands a comprehensive approach. Examples of obstacles include a poor shopping experience, an ecommerce app that's less than user friendly, and a product assortment in need of updating.
For now, let's assume there are no significant obstacles, and that it's possible to close the value gap through a series of promotional campaigns. To illustrate, we will allocate a "per customer" promotional dollar value that will fund campaigns designed to achieve each segment's behavior change objective. Assume that the per customer investment amounts in the table below represent a mix of digital, direct, and social media tactics implemented over time using different offers, messages, and creative treatments: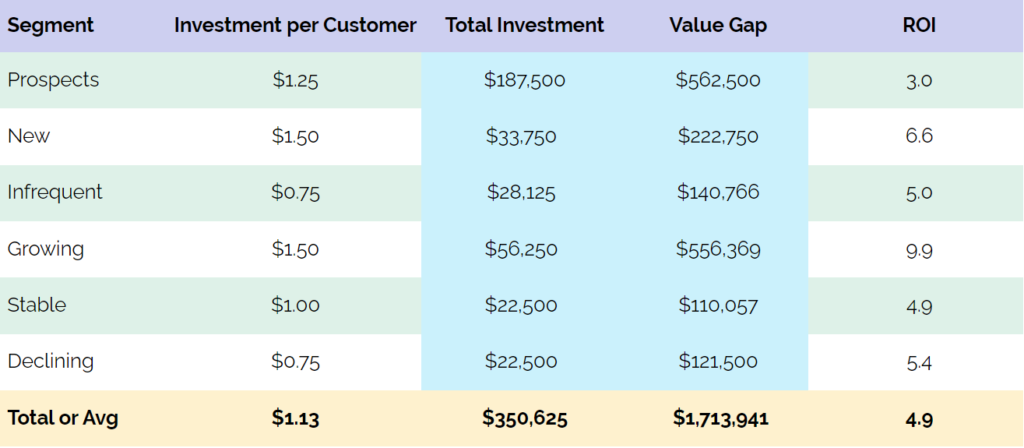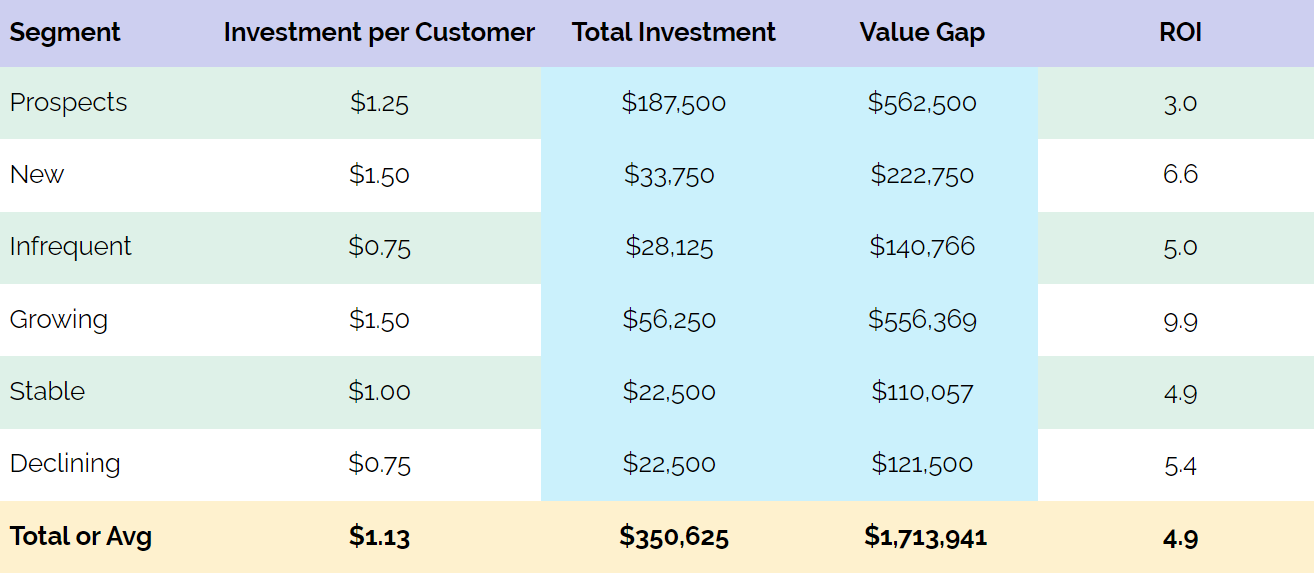 Develop program investment pro forma
This is a simple example of the "Develop Program Investment Pro Formas" step in the segment management process, which leads directly to "Prioritize/Optimize Program Investment Strategies". In the table above, the growing segment is the clear winner on an ROI basis, while the Prospect segment falls below the segment average. Discussions about alternative investment strategies, different mixes of marketing tactics, and corporate priorities are all a part of the give and take that is inherent in this process. In this case, while the prospect segment had a below average return, it contributed a disproportionate amount of the total revenue gains, and clearly supported management's objective of continuing to capture incremental market share.
The benefits to the organization of this approach are clear:
Marketers are required to engage in a phased approach to analyzing and understanding customers in a different way
Campaign or channel-level performance metrics are maintained, and customer level metrics resulting from this process are added, providing additional lines of sight into the brand's health
Budgets are allocated on the basis of projected results, improving marketing ROI over time
For executives, the clarity of return on investment targets, the added insights that come from the process, and the rigor of clear and measurable objectives can be easily tied to marketing performance measurement
Finally, the entire organization will become more customer-centric simply through implementation of this process, as the process itself is customer-centric
Subscribe and get the latest updates
You may unsubscribe from our mailing list at any time. To understand how and why we process your data, please see our Privacy & Cookies Policy
Start your journey to more informed decisions today
Get in touch to see how Kalibrate could empower your decision-making.