Assessing an acquisition opportunity: The 7 Elements
The unexpected availability of sites presents a significant opportunity. But how can we assess which have the best potential? Elements such as location or facilities contribute to site performance, but they will never give the complete picture of potential for any acquiring portfolio.
With many mergers and acquisitions in the retail fuel market at present, keeping on top of the many opportunities can be a challenge. As ever, those that cannot react quickly risk letting the competition get to the best sites first.
Take the two gas stations pictured below. These sites are among the 27 set to be sold by EG Group, due to an assessment by the Competition and Markets Authority, following its acquisition of ASDA.


For network planners, the unexpected availability of sites in cases like this presents a significant opportunity. But how can we assess which have the best potential? While some fuel retailers may understand how certain elements such as location or facilities contribute to a site's performance, they may not tell the full story.
Let's take a closer look at the sites in question:
Site A is a service site station located just off a major A road. It offers five pumps and a total of 34 nozzles, creating ten simultaneous fueling positions. The fuel brand is Shell, store brand is Sainsbury's, with coffee provided via a drive-through Starbucks, and food by Subway. The site is relatively new to industry, very large, and has separate truck refueling spaces.
Site B is in an urban location and runs under the Esso fuel brand with a Spar convenience store. It has four pumps and 28 nozzles, which provide eight simultaneous fueling positions The coffee is Costa and it also offers a Subway food service. This is an established site with a small footprint store, leaving limited scope for modification or development.
Quantifying an opportunity
For years, fuel retailers have relied on gut-feel to attempt to quantify opportunities – but that's less reliable than ever, given the number of factors influencing success. More crucially, it can also reduce the speed of your pipeline moves, meaning the best opportunities get snapped up by the competition.
At Kalibrate, the 7 Elements of Fuel and Convenience Success is our strategic framework for assessing potential performance. By consistently applying the 7 Elements methodology, you can quickly score and assess the potential of individual sites within a network, to find the best. You can also identify underperformers. For example, those that may perform better under a different brand or with improved facilities and merchandising. Crucially, this allows you to dig below the surface of a single volume number to understand what is driving the existing performance and what opportunities exist.
Let's take another look at these sites and apply a 7 Elements framework.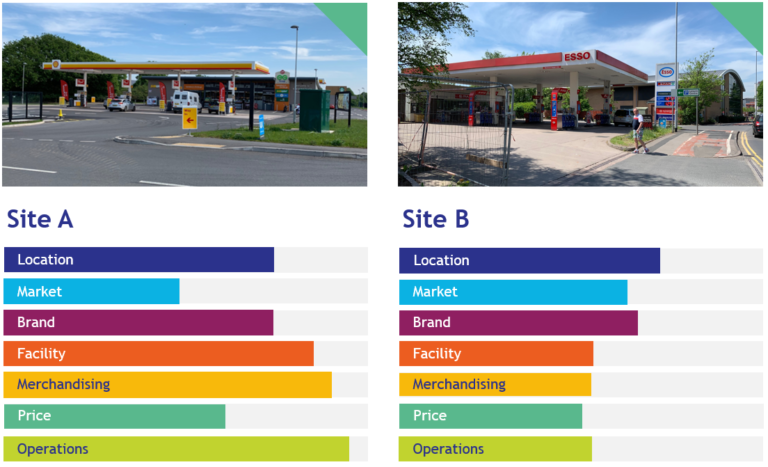 While both sites rank similarly on location, Site B's stronger market potential means improvements in other elements see increased return for any business interested in an acquisition. The 7 Elements framework flags facilities, merchandising, and operations as areas where the right investment could lead to better performance.
Crucially, the 7 Elements methodology allows network planners to understand why certain sites perform better than others – and what steps can be taken to realize potential.

Spotting underperforming sites and identifying potential
Let's take another pair of gas stations – this time both operating under the Applegreen brand.


Site C is located near a hotel and bar on a major town ring road. It has five pumps and 17 nozzles offering nine simultaneous fueling positions. There's no premium fuel, store brand, food service or coffee. The site is in need of upgrade and could accommodate a larger footprint store to provide additional services.
Site D is located on a major A road. It has four pumps and 24 nozzles providing eight fueling positions. Applegreen is the store brand with coffee by Costa and food from Subway. The site has seen recent reinvestment, with updated brand image, re-pump, the introduction of premium fuels, plus food services and the coffee offer.
The application of the 7 Elements framework in this instance allows us to spot not only the underperforming site, but provide insight into the factors contributing to underperformance, and where investment should be focused for best return.
Site C could represent a significant opportunity for acquisition and reconfiguration. The 7 Elements methodology can identify where investment should be focused to turn the site into an asset within the acquiring business' portfolio.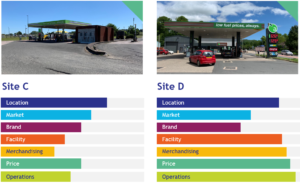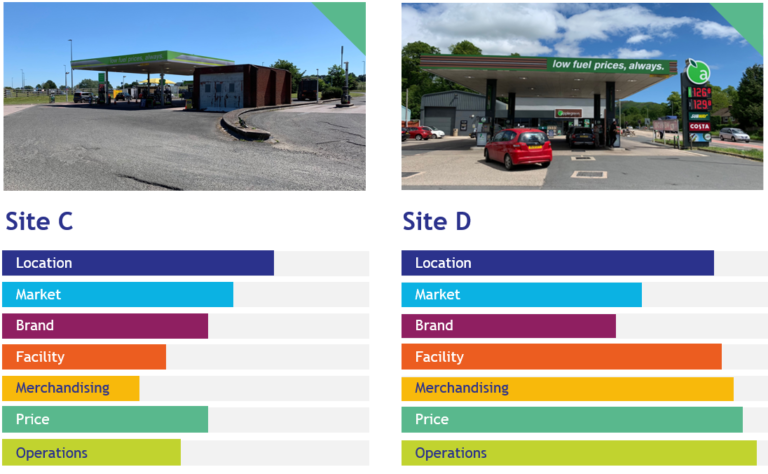 While the location and market of Sites C and D are broadly comparable, Site D is far more likely to be maximizing its potential. The 7 Elements framework reveals that investment in facility, merchandising, operations, plus a more competitive pricing strategy, could see Site C achieve its potential and deliver greater returns for an acquiring portfolio.
In the examples explored above, the application of the repeatable 7 Elements methodology leads to site acquisition and optimization decisions that are strategic rather than opportunistic. By removing the reliance on gut-feel to make planning decisions, fuel retailers utilizing actionable insight provided by the 7 Elements are likely to achieve greater returns on their investments.
Taking things further: Acquisitions fit for your network
Once you've mastered site level improvements, the natural progression is how changes at one location could impact demand across others in your portfolio. Kalibrate works with fuel retailers to assess likely cannibalization. Take the example above, how might adding four pumps at site A affect performance of your current sites at locations X, Y, and Z?
Understanding the characteristics that contribute to success is crucial to helping network planners make sound strategic decisions, from identifying sites for improvement to boost performance to reducing risk by recognizing sites that could never deliver a viable return.
Subscribe and get the latest updates
You may unsubscribe from our mailing list at any time. To understand how and why we process your data, please see our Privacy & Cookies Policy
Start your journey to more informed decisions today
Get in touch to see how Kalibrate could empower your decision-making.