Petroleum pricing in Canada — the Q3 report
Kalibrate's quarterly report examines the factors that contributed to Canada's highest petroleum prices on record.
As gasoline refining margins reached a six-year high and crude prices reached a three-year high this past quarter — Canadian retail gasoline prices were pushed to a record high, and retail diesel prices hit a level not experienced in seven years. 
Canadian crude prices were pushed even higher over the past quarter as global crude markets tightened. A surplus  of crude oil that emerged in 2020 during the onset of the pandemic, completely disappeared by the third quarter as demand pushed up against supply.  
The Organization of Petroleum Exporting Countries and their allied countries (OPEC+) continued to limit crude oil production while demand for crude increased with the easing of international travel restrictions.  
The situation has been further compounded by a natural gas energy crisis in Europe which has increased the demand for heating or furnace oil — a by-product of crude — resulting in a higher crude price valuation.  
In late August 2021, Hurricane Ida halted 96% of crude oil production in the Gulf of Mexico for several weeks before production levels stabilized. 
The result of all this? 
By the end of September 2021, overall North American crude inventories had fallen 7.5% from the end of the previous quarter and resulted in Canadian crude prices reaching a three-year high.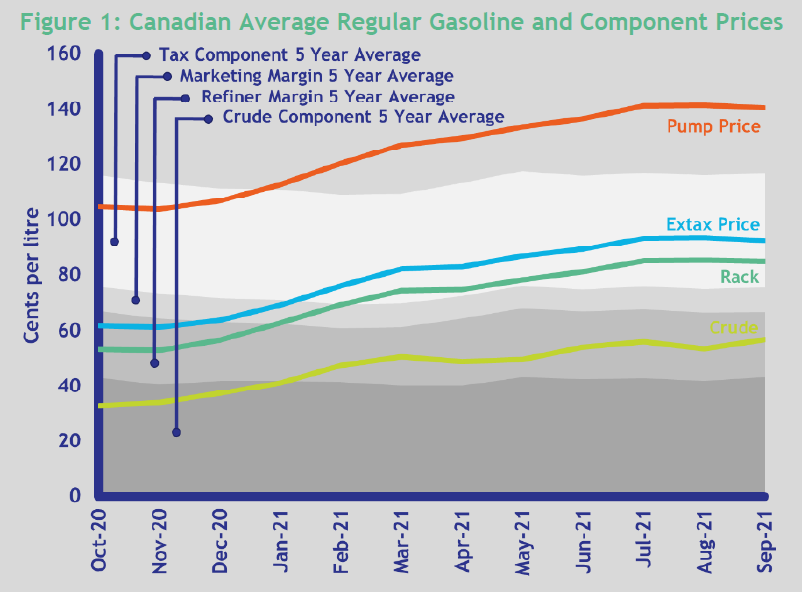 Read the full report to get detailed insight on Canadian petroleum pricing in the last quarter, including:
A gasoline and diesel market overview
Find out how prices have changed across the nation — with an explanation of demand, supply, and other influencing factors
The market outlook for Q4
Read Kalibrate's analysis on how production rates, global factors, and changing demand will impact the market — and pump prices in Q4
Understanding holiday fuel price increases
We investigate the effect that holidays have on fuel prices and the seasonal changes in refining and retail fuel margins. 
Download and read the full report for an in-depth understanding of the Canadian fuel market and the drivers for petroleum pricing.
Subscribe and get the latest updates
You may unsubscribe from our mailing list at any time. To understand how and why we process your data, please see our Privacy & Cookies Policy
Start your journey to more informed decisions today
Get in touch to see how Kalibrate could empower your decision-making.