Preparing for demand recovery: put data at the heart of your fuel retailing strategy
Anila Siraj, Head of Data Strategy and Jason Parent, Head of Insight Products, look at the US and Canadian markets' expected recovery and rebound for the year ahead.
The global pandemic has turned industries upside down, disrupted business models, and drastically changed the day-to-day lives of consumers.
For fuel retailers, the pandemic has led to a dramatic change in consumers' mobility patterns, and this has had enormous implications for fuel demand.
In both the short and long-term, it's important for fuel retailers to understand the impact of Covid-19 on fuel consumption. Yet the long-term effect is far more difficult to predict as the spread of the virus slows and consumers start to return to behaviors and habits that represent a "new normal".
To help fuel retailers understand the short- and long-term impact, we've analyzed fuel consumption in Canada and the US, to model the projected recovery and what this means for businesses in the months and years to come.
Building models to predict demand
As vaccine rollouts continue across the globe, it is inevitable that fuel demand will once again shift. But predicting this change is easier said than done. There is a lot of uncertainty around how long it will take for demand to return to pre-pandemic levels. Knowing exactly how your consumers will behave in 12 months' time is a challenge, let alone trying to predict this behavior several years into the future.
For our customers, we have been laser-focused on building robust, informed, and accurate demand models to ensure they have the data they need to make business-critical decisions about how to adapt to new and developing market conditions.
Using Kalibrate's proprietary modeling methodology, we have developed a fuel demand forecasting model to measure the impact of COVID-19 on fuel consumption in North America, and the likely timeline for recovery of demand back to "normal" levels. The model predicts the next period of demand with 98.9% accuracy, using mobility and trip data to augment our understanding of consumer behavior and its impact on fuel consumption.
All models show that demand will experience a dip in the first quarter of 2021 before beginning the path to recovery, bottoming out in the "second wave" at 23 % year-on year decline for Canada and 17% year-on-year decline for the US.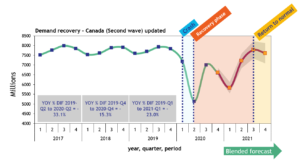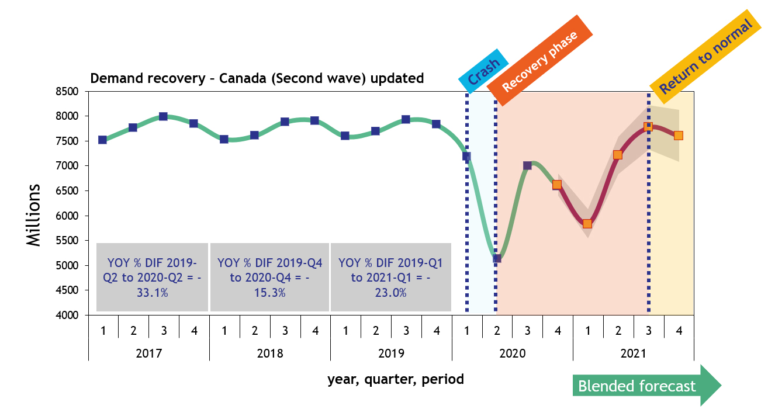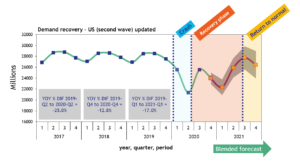 When compared to our previous analysis of fuel demand in July last year, the updated models show that the second wave had less of an impact on demand than previously predicted. It's likely that Government policy decisions and peoples' own decisions about how often they traveled plays a significant role in this.
Because of this, the data also indicates that the recovery in demand is likely to come a quarter later than previously predicted for the US and Canada. In Kalibrate's recovery scenario, demand can be expected to return to relatively normal levels by Q3 2021. For fuel retailers, this may present an opportunity, allowing time to develop their own post-pandemic strategic roadmap.
Leveraging Kalibrate's scientific modeling, analytics tools, and comprehensive data sets helps assess specific variances in consumer behavior and how these changes manifest at your sites. We are already helping fuel retailers around the world prepare for this rebound by providing data-driven insights and modeling the impact of changes on their business.
Further reading
You can read more of our insights about understanding the impact of COVID-19 on fuel retail using mobility data, how to manage your pricing during a state of emergency, or how to react to an unprecedented climate.
Our team of experts can help you grow your business in the face of changing consumer behavior and shifting fuel demand. Get in touch now to ensure you're prepared for the new market conditions.
Subscribe and get the latest updates
You may unsubscribe from our mailing list at any time. To understand how and why we process your data, please see our Privacy & Cookies Policy
Start your journey to more informed decisions today
Get in touch to see how Kalibrate could empower your decision-making.