Enhancing our location intelligence capabilities
Kalibrate has significantly grown its range of location intelligence solutions, enabling our customers to answer more of their biggest location questions, in more markets, and with greater levels of accuracy.
For decades, organizations have trusted Kalibrate to help them make the decisions that matter.
While technology and markets may have changed since our founding, our focus remains on providing cutting-edge solutions that enable our customers to achieve their growth ambitions.
Back in 2020, Kalibrate welcomed Trade Area Systems (TAS) and eSite Analytics into the Group, closely followed by Intalytics in 2021. Sharing our spirit of innovation and commitment to technology that empowers decision-makers, each of these businesses brought a wealth of new capabilities and industry expertise to the Kalibrate Group.
Platform launch
In 2022, we're delighted to launch Kalibrate Location Intelligence – the industry's gold standard software platform to support organizations' location and marketing strategies.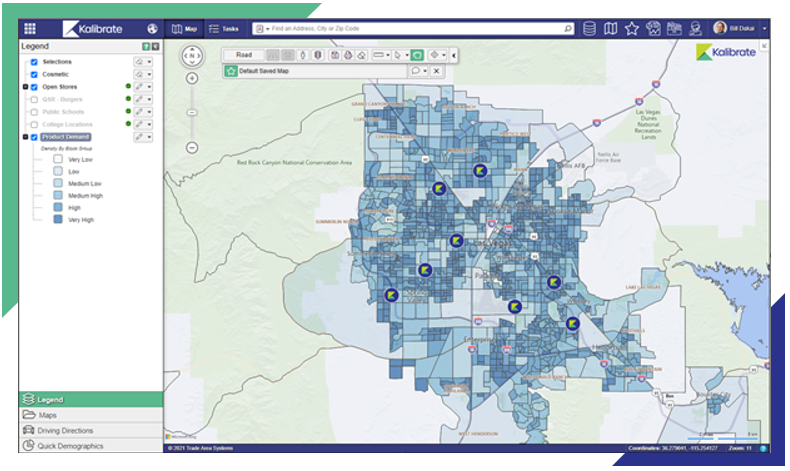 The tool builds on the highly customizable functionality of TAS Online while integrating the sales forecasting capabilities of Intalytics and ensemble modeling of eSite, into a best-of-breed location intelligence platform.
For real estate and marketing leaders looking to equip their teams to manage risk, know their customers better, and spot the best opportunities, Kalibrate Location Intelligence is the natural choice.
>>READ MORE ABOUT KALIBRATE LOCATION INTELLIGENCE
By your side as you grow
Many Kalibrate Group customers have been with us for decades. We are the go-to partner when it comes to making the big strategic decisions – as well as the small every-day ones – that help them realize their potential.
We work with organizations with extensive internal research capabilities and those where location strategy may be the responsibility of just one individual. Whether your strategy is more single-site oriented, multi-site or enterprise-wide – local, national, or global – Kalibrate Location Intelligence scales to provide the actionable insight that removes the guesswork from the decisions that matter most.
For decision makers, by decision makers
Our team has decades of industry experience making location decisions for a range of household brands. Whether you are using Kalibrate's software, data, or analytical models – or engaging with our consulting team – you're using solutions built by retail location experts just like you.
Subscribe and get the latest updates
You may unsubscribe from our mailing list at any time. To understand how and why we process your data, please see our Privacy & Cookies Policy
Start your journey to more informed decisions today
Get in touch to see how Kalibrate could empower your decision-making.