Meet the Kalibrate team: Chip Rodgers - Senior Director of Business Development
"Saying to a prospective client 'Here's what you gave us, here's what our team can do', and having that output exceed their expectations is as good as it gets. Fortunately, we have some very talented people building our solutions, so it happens quite a lot!".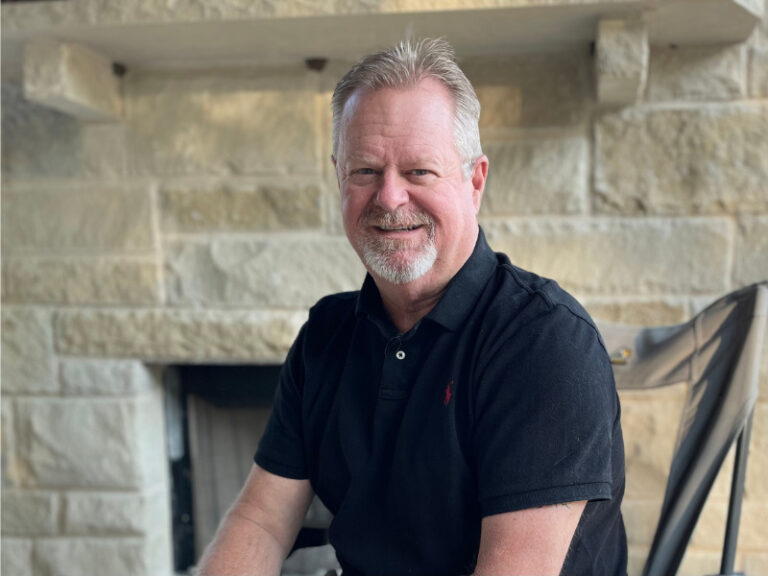 At Kalibrate, we believe our success is driven as much by our people as our technology. This blog post introduces Chip Rodgers, Senior Director of Business Development, and gives an insight into what he brings to our business.
What's your role at Kalibrate?
I'm the Senior Director of Business Development working with fuel and convenience store retailers in the US. My primary responsibility is to listen to our prospective clients, gain an understanding of their needs and challenges, and collaborate with the most appropriate Kalibrate team members to craft and propose solutions to meet those needs.
What does a typical day look like?
Most often I work form my home office in central Texas. When not travelling to meet clients, my typical day starts early with coffee on the back porch checking emails and planning my day. My days will be busy with prospect meetings, proposal development, research, and outreach. I work closely with the solutions teams here at Kalibrate so have standing meetings weekly on project status and client support needs. When a new client chooses to partner with Kalibrate, I work with the various stakeholders to formalize and launch the project.
My wife, Lisa, works with special needs children at a local school, and being close by, most nights we have supper as a family. We are both active in the community so on some evenings one or both of us will be attending meetings for our volunteer activities.
What do you love about your role?
I have always enjoyed client facing roles and at Kalibrate I really love being able to meet a client for the first time, discuss their needs and challenges, and then communicate that back to our team to have them deploy their capabilities — whether that's software, analytics, or a mix of both. Having the ability to traverse Kalibrate's solution set, from pricing to the flavors of location intelligence, is greatly rewarding. Saying to a prospective client 'here's what you gave us, here's what our team can do', and having that output exceed their expectations is as good as it gets. Fortunately, we have some very talented people building our solutions, so it happens quite a lot!
Why did you choose to join Kalibrate?
My first interaction with the Kalibrate team was as a partner in the early 1990s when our respective companies developed an early geographic information system product to deliver pipeline and electric transmission data to relevant industries. I remember, even then, being impressed by the team. Years later, while I was working as the VP of Sales and Marketing for an enterprise resource planning provider, we had several common clients with Kalibrate which required occasional interaction, and again, I admired the Kalibrate team's professionalism and approach to their clients' interests.
In the meantime, I was fortunate during my career in retail analytics to work with many individuals who are now on the Kalibrate team. When the opportunity was presented to again work with these people, who had my utmost respect, I was thrilled to be considered and jumped at the chance. I am pleased that I have not only been able to engage with my former colleagues, but also build relationships with a new cast of players, all with that same get-it-done attitude and professionalism.
What do you think are the greatest challenges and opportunities
in the fuel and convenience retail sectors?
Margins in the fuels space have traditionally been tight and markets are highly competitive. Smart, automated routines to assure the optimum price gets to the pump seamlessly and timely is critical to maximize profit. There is also a great deal of savings to be found in minimizing the personnel time needed to set prices and validate that price changes have successfully been implemented.
Kalibrate has a great reputation in the fuel and convenience space and has been considered by many as the "go-to" provider for operators with medium to large portfolios seeking a robust pricing tool. Today, more and more small to mid-tier organizations are finding that Kalibrate has the same ability, and flexibility, to satisfy their needs as well.
For real estate professionals in the industry, there is the need to understand the value of a site, whether existing or new, and then to make informed capital expenditure decisions – whether it be for new builds, remodels, store closures/relocations, electrical vehicle investments, etc. To accomplish this, it becomes hugely important to understand site and market potential based on customers, demand, competition, cannibalization, historical performance and more. Kalibrate delivers the tools to make these decisions in easy-to-use and intuitive platforms purpose built to answer our client's unique questions.
Where do you see fuel and convenience retail markets heading?
I predict smarter operations! Whether they be from Kalibrate, or from other purpose-driven technology providers, there exists a wide array of tools available for industry professionals to utilize that can make their daily lives more productive and their operations more profitable. With the ever-changing landscape for both fuel and retail, working smart and having the right tools at their fingertips will pay huge rewards. We're well-equipped to stay ahead of the trend.
Subscribe and get the latest updates
You may unsubscribe from our mailing list at any time. To understand how and why we process your data, please see our Privacy & Cookies Policy
Start your journey to more informed decisions today
Get in touch to see how Kalibrate could empower your decision-making.