Best practices in new mover marketing campaigns
A move to a new residence is a significant event for consumers and triggers a series of needs that marketers can leverage to acquire those movers as new customers and thereby grow their business.
A move to a new residence is a significant event for consumers and triggers a series of needs that marketers can leverage to acquire those movers as new customers and thereby grow their business.
Consumer's relationships with brands located in the vicinity of their previous residence are fractured when the brand's nearest brick-and-mortar location isn't conveniently positioned near the new residence. Brands that were absent around the old residence but are present around the new residence now fall into the consideration set.
New movers represent a high-potential target for all consumer-focused businesses, yet most firms we've consulted with over the years lack a consistent and measurable strategy to acquire new movers.
This article will examine two examples of new mover acquisition marketing campaigns, both in the healthcare space – a national specialty medical operator with 500+ locations and a regional operator of urgent care clinics with 50+ locations.
New movers vs. established households
First, let's look at an example of the value to an operator of acquiring new movers as compared to targeting established households.
For the national client, Kalibrate has built a number of predictive patient acquisition models across different service lines. These models—built on patient profiles they developed—improve marketing return on investment by identifying high value prospect households that share common characteristics of the client's most valuable patients. As an example of the impact of one of these models, targeting prospect households in model ranks 1-3 yields an expected lift (improvement in effectiveness) of 37% compared to predicted response from a random selection of non-patient households:
Concentrating marketing efforts solely on the best prospects means scarce resources aren't wasted chasing less valuable prospects, and enables higher frequency targeting of the most valuable prospects. The result is improved return on marketing investment and a lower cost to acquire (CTA).
Consider the results from one of their direct mail campaigns, using Revenue per Piece Mailed ($PPM) as the evaluation metric: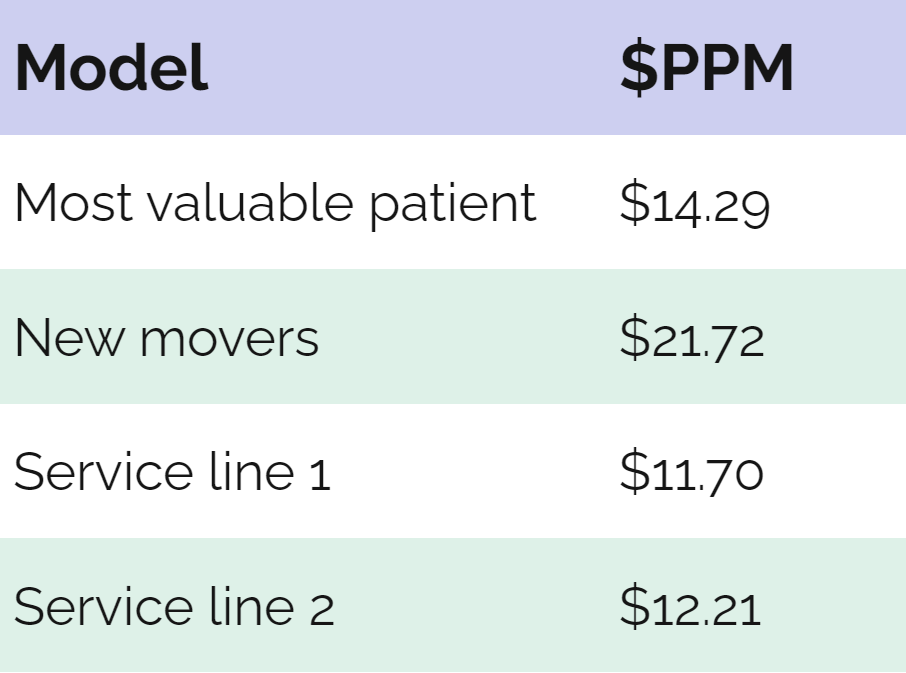 In this example, the direct mail per piece cost was $0.48, and $PPM (revenue) is measured using a 90-day response window. Put simply—when targeting new movers, an investment of 50 cents yielded a return of a $20 bill, a ROI 52% greater than campaigns targeting the most valuable prospect patient. This new mover premium has persisted across hundreds of individual marketing campaigns for this client measured over a period of years.
The need triggered by the consumer's move is maintaining access to healthcare, and a significant percentage of new movers find that their old provider either doesn't have a presence around their new residence or their old provider is so inconveniently located that the consumer is motivated to establish a new relationship.
Let's take another example, this time focused on the regional urgent care operator. We executed a digital targeting campaign for our client to acquire new patients during the busy flu season. Static banner display ads with a general brand awareness message were delivered to specific households (four distinct prospect audiences) via our programmatic ad system across multiple ad exchanges:

Initial results indicated that the geofence audience was the top performer – this audience drove the highest number of website visits, and boasted a click/impression index of 111 (30.3% of impressions drove 33.6% of visits to the client's landing page). When controlling for volume of impressions, new movers appeared to underperform – the new mover audience saw a click/impression index of 94, marginally better than the low performer of Flu +50: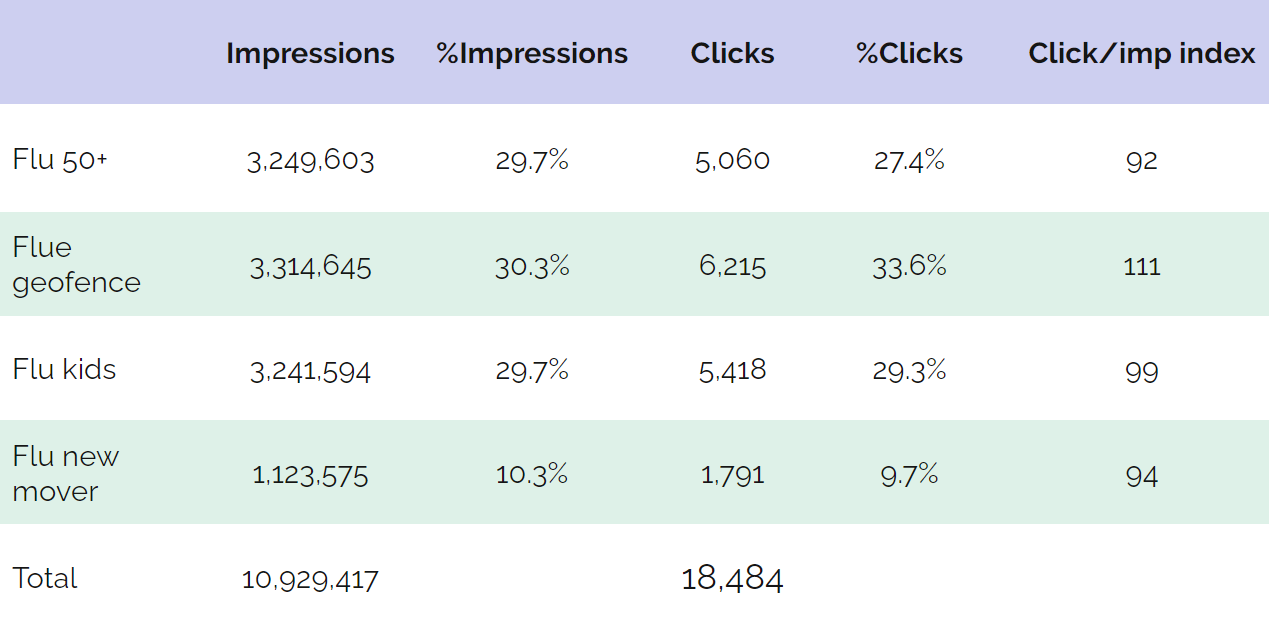 However, when looking at both clicks and actions (an action occurs when a user who was previously served an ad but didn't click on it visits the client website), a different picture emerges: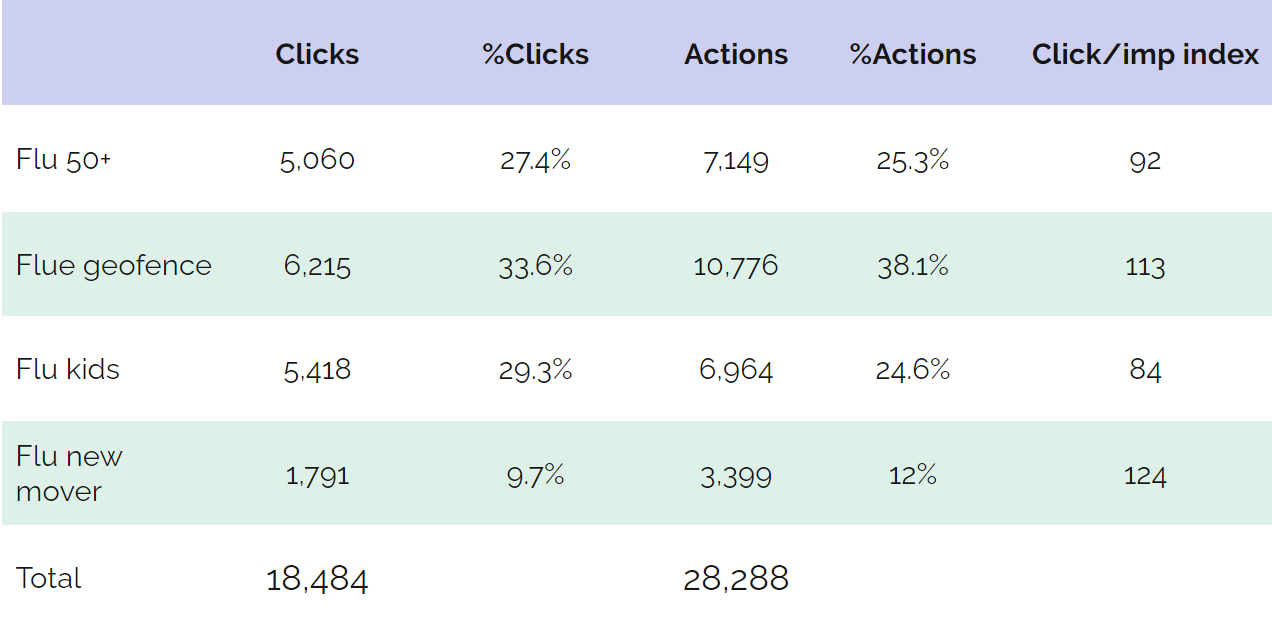 By evaluating marketing campaign performance through this lens, the new mover audience was the clear winner. New movers visited the client's website at a higher rate than the other audiences (9.7% of clicks on the ad, but 12.0% of subsequent direct visits to the client's website). Our hypothesis behind this finding is that the new mover's need wasn't urgent enough to drive clicks on the ad, but the ad's frequency generated high levels of recall, resulting in the later visit to the client's website.
Engagement activity associated with ads and the client's website are great, but what about new patient conversions? This campaign acquired 2,908 new patients for our client, 709 of which came from the new mover audience.
Conclusions and recommendations for new mover marketing campaigns
New movers represent a high-potential audience that all brands should target for acquisition. In any given year, approx. 10% of the population will move – not only is this a valuable target audience, it's a sizeable one as well
When targeted directly with a relevant value proposition, new movers are more likely than the general population to respond to marketing messages. Their relocation triggers multiple needs to establish new brand relationships
New mover marketing campaigns should be ongoing, not relegated to specific points in time. Kalibrate, found one key to success is beating our client's competitors to the punch by being the first brand to deliver our marketing message. Our new mover targeting enables clients to reach new movers an average of 45 days from when the move was identified
We recommend applying distance-based analysis to new mover targeting. As a general rule, Kalibrate defines a new mover as one who relocates 5+ miles from their previous residence. Many moves occur within a small geographic window. Such moves don't trigger the same degree of need to find new providers and establish new brand relationships
Finally, conduct a household level response analysis after your new mover marketing campaign. Since households in the same neighborhood share many key characteristics, we often find that geography is a predictor of response
Subscribe and get the latest updates
You may unsubscribe from our mailing list at any time. To understand how and why we process your data, please see our Privacy & Cookies Policy
Start your journey to more informed decisions today
Get in touch to see how Kalibrate could empower your decision-making.