Transforming site insights — Kalibrate's new Single Site Analysis report
If you're investing in or seeking investment for a new fuel site, planning a refurbishment, or are choosing what type of site to build, you first need to understand how it might perform.
At Kalibrate, the Single Site Analysis report has undergone a transformation.
If you're investing in or seeking investment for a new fuel site, planning a refurbishment, or are choosing what type of site to build, you first need to understand how it might perform. This requires transparency over competitor activity, traffic, and market dynamics. Doing your own research is important, of course, but understanding in-depth location information and running various "what if" scenarios are absolutely essential to making a robust financial decision.
Kalibrate has always prided itself on its exceptional site analysis; deep diving into projected volume potential, in-depth location data, demographic information, brand assessment, and accurate scenario simulations.
The new Single Site Analysis report takes this same incredibly detailed analysis, and improves the output tenfold. Not only do customers get all the tactical information at their fingertips in an easier-to-digest format, they receive the added benefit of consultative commentary, site suggestions, and areas to take caution. All delivered directly from highly experienced market experts. With the new Single Site Analysis report, fuel site investors and retailers are guaranteed to make enhanced financial site investments.
We recently caught up with Anila Siraj, Kalibrate's Chief Product Officer, to learn about the report's new, premium features, like market share analysis and benchmarking against the 7 Elements for Fuel and Convenience Retail Success:
In-depth location commentary
A good site analysis report will provide a fuel retailer with data and insight on volume potential, competitor analysis, and site strengths and weaknesses. Kalibrate runs multiple simulations to assess potential scenarios, which can include fuel volumes, car wash success, convenience store sales, and quick service restaurant (QSR) turnover. Expert analysts can then provide customers with a number of outcomes based on these scenarios.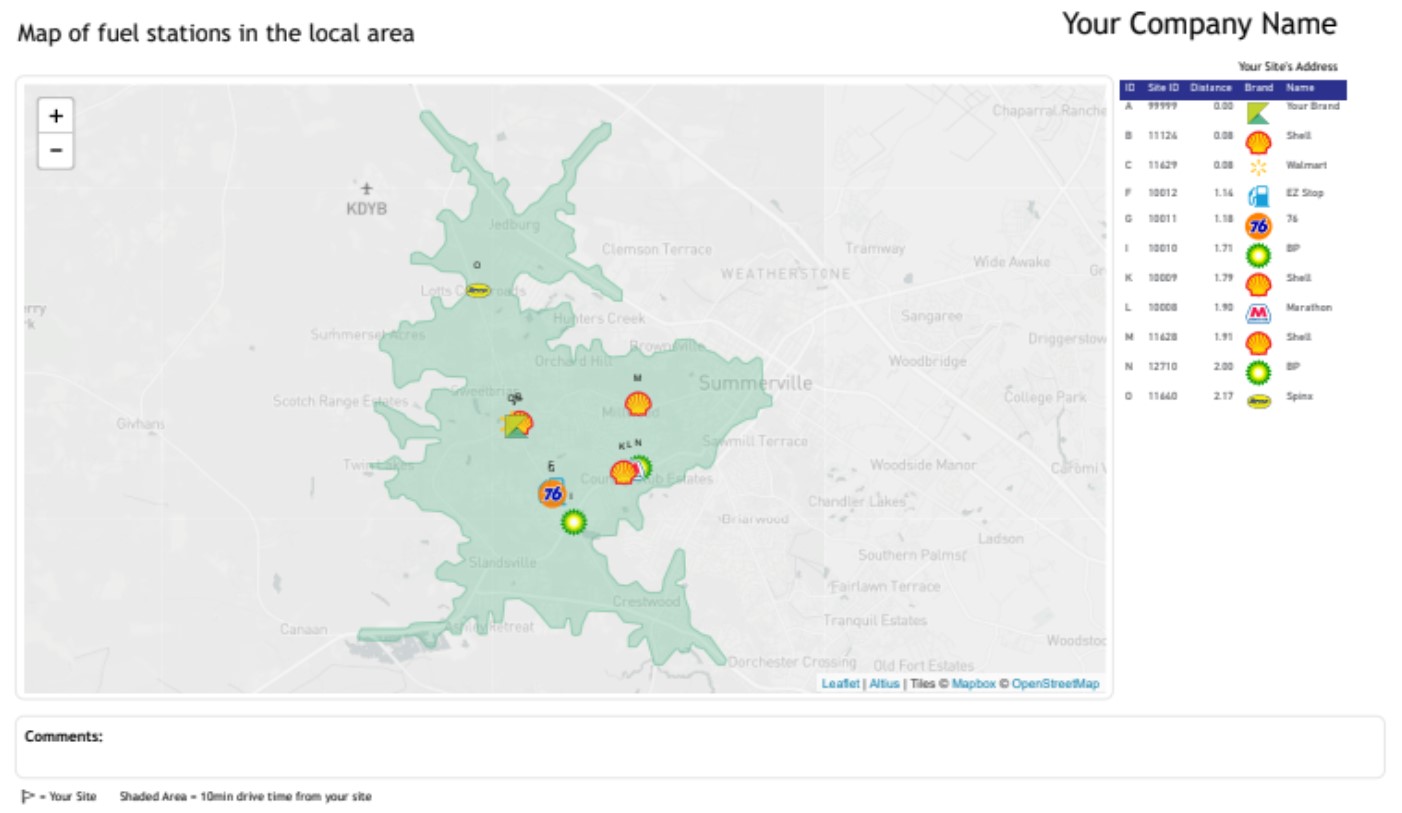 "With the new Single Site Analysis report, customers don't just get detailed results of their chosen simulations. Our new report also provides our customers with clear commentary and suggestions on how to get the best from these results. The report benchmarks their brand strategy and explains how certain pricing structures could work, with insight on potential convenience store sales, car wash, and QSR opportunities, and many more site attributes.
In short, our new Single Site report is like your own personal site consultancy service."
– Anila Siraj, Chief Product Officer, Kalibrate
Market share analysis
Success doesn't exist in a vacuum; retailers and investors need a keen understanding of their potential market share, depending on these above mentioned factors and variables.
To establish market effectiveness, a premium feature of Kalibrate's new report also provides customers with a clear overview of their brand and store sales versus others in the market, coupled with their market penetration. This assessment enables you to maximize output with these factors in mind.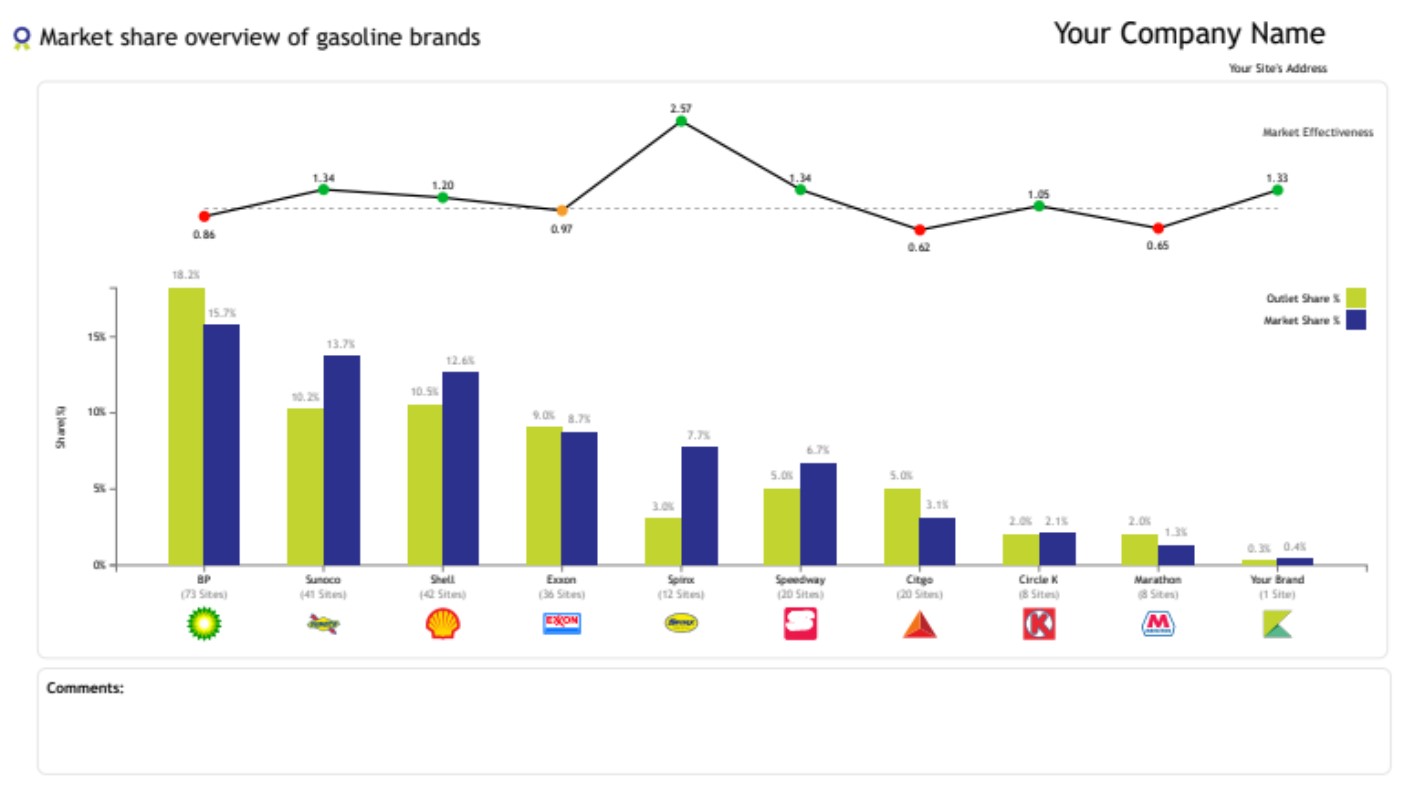 Benchmarking against all 7 Elements for Fuel and Convenience Retail Success
Kalibrate has extensive experience modeling retail fuel and convenience sites in over 70 countries. This in-depth knowledge revealed that the key factors that drive fuel retail performance can be captured in seven key elements. These are:
Location
Market
Brand
Facility
Merchandising
Price
Operations
To fully understand the potential of a fuel retail site, these seven areas need their own detailed consideration and benchmarking against the competition. This premium feature of the new report allows investors to understand where performance is good and where a site requires improvement compared to its competitors, in all seven areas.
"Our new Single Site Analysis report hones in on the key performance improvements that will deliver the highest return for our customer, and outlines where to consider competing."
Anila Siraj, Chief Product Officer, Kalibrate.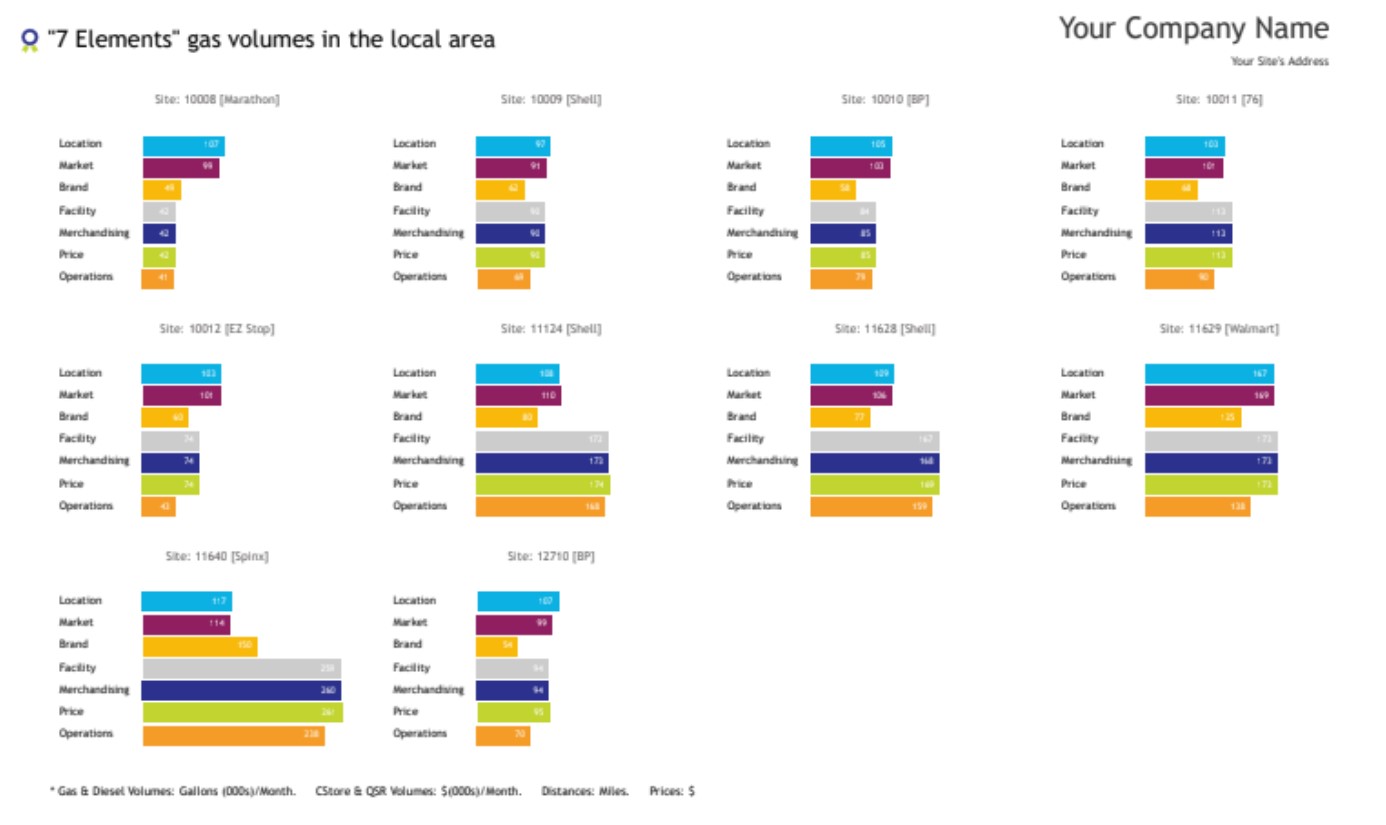 New quick service restaurant (QSR) analysis
Assessing potential fuel volume is one of the most important metrics to establish a smart pricing strategy. However, fuel isn't the only consideration. As part of Kalibrate's new Single Site Analysis report, the assessment can also interrogate convenience store sales, QSR performance, and car wash potential.
For example, a simulation could assess whether additional facilities, such as parking spaces, would benefit QSR or convenience store sales. Find out which QSR brand would engage the highest number of customers, and deliver the highest sales. For example, customers can match the size of their planned QSR building with projected sales.
New market data coverage
Whether you're a small retailer investing in one site, or a major player developing a fuel site as part of a wider network across multiple markets and countries, you probably need to know more than just one site's data. Perhaps you're an international fuel brand looking for insights on your local market.
Kalibrate's analysis gives accurate volume projections and insight into how a brand (yours or a competitor's) might behave in a market, based on the characteristics of the site, and how the volume is being projected.
This data is available around the world, so you can consider the impact of a potential site in markets beyond your current network.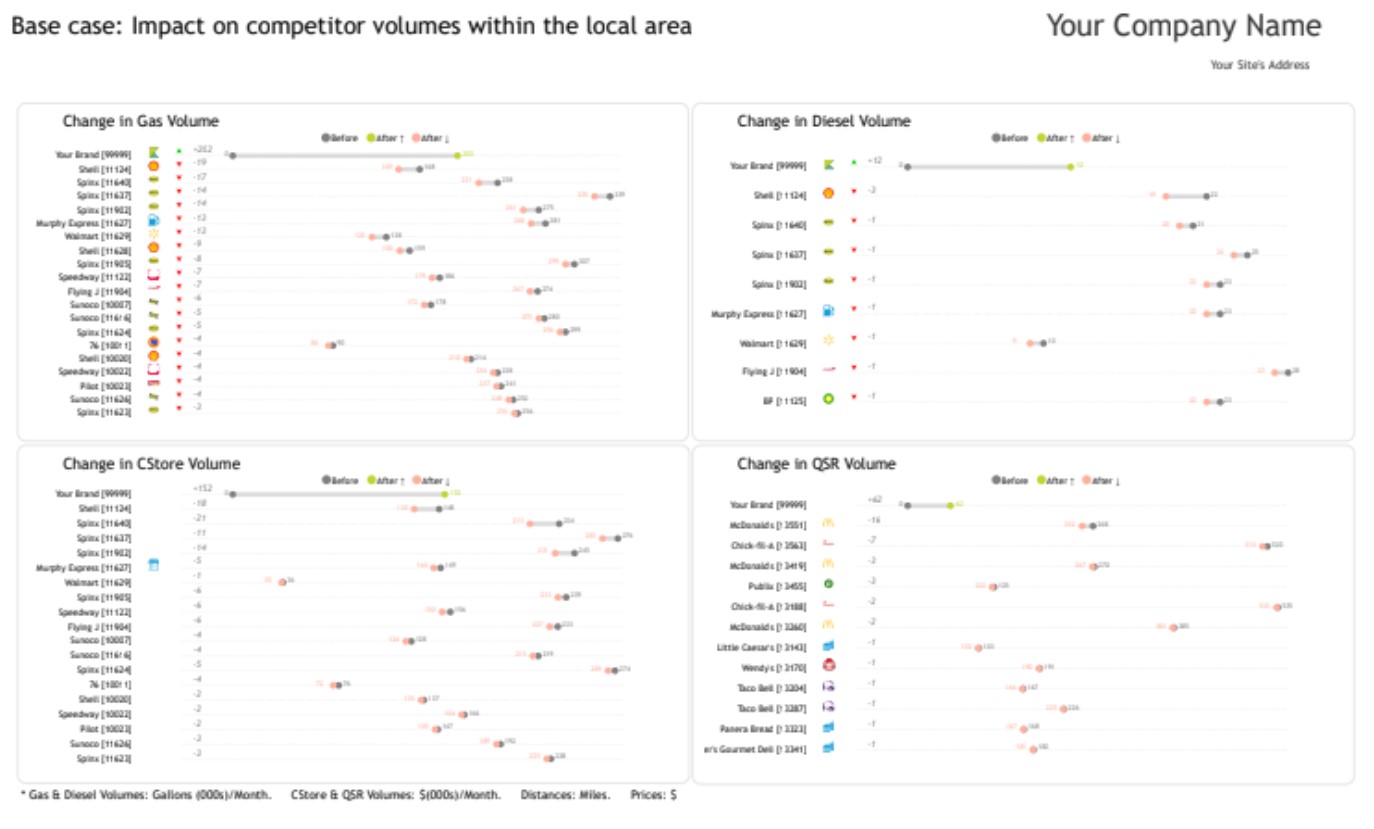 Exceptionally simple visualizations
A Single Site Analysis report often contains a lot of comprehensive data about market conditions, opportunities, strengths, and weaknesses. This data can be overwhelming if not presented in a way that delivers easy-to-understand insights for you.
Kalibrate has incorporated years of experience in machine learning and AI, as well as in-depth market knowledge to develop a forecasting technique that accurately predicts a site's performance potential. Kalibrate's reports don't just provide extensive and comprehensive insights, they are highly visual and easily digestible. Customers can now understand complex items like detailed market share and volume projections at a single glance.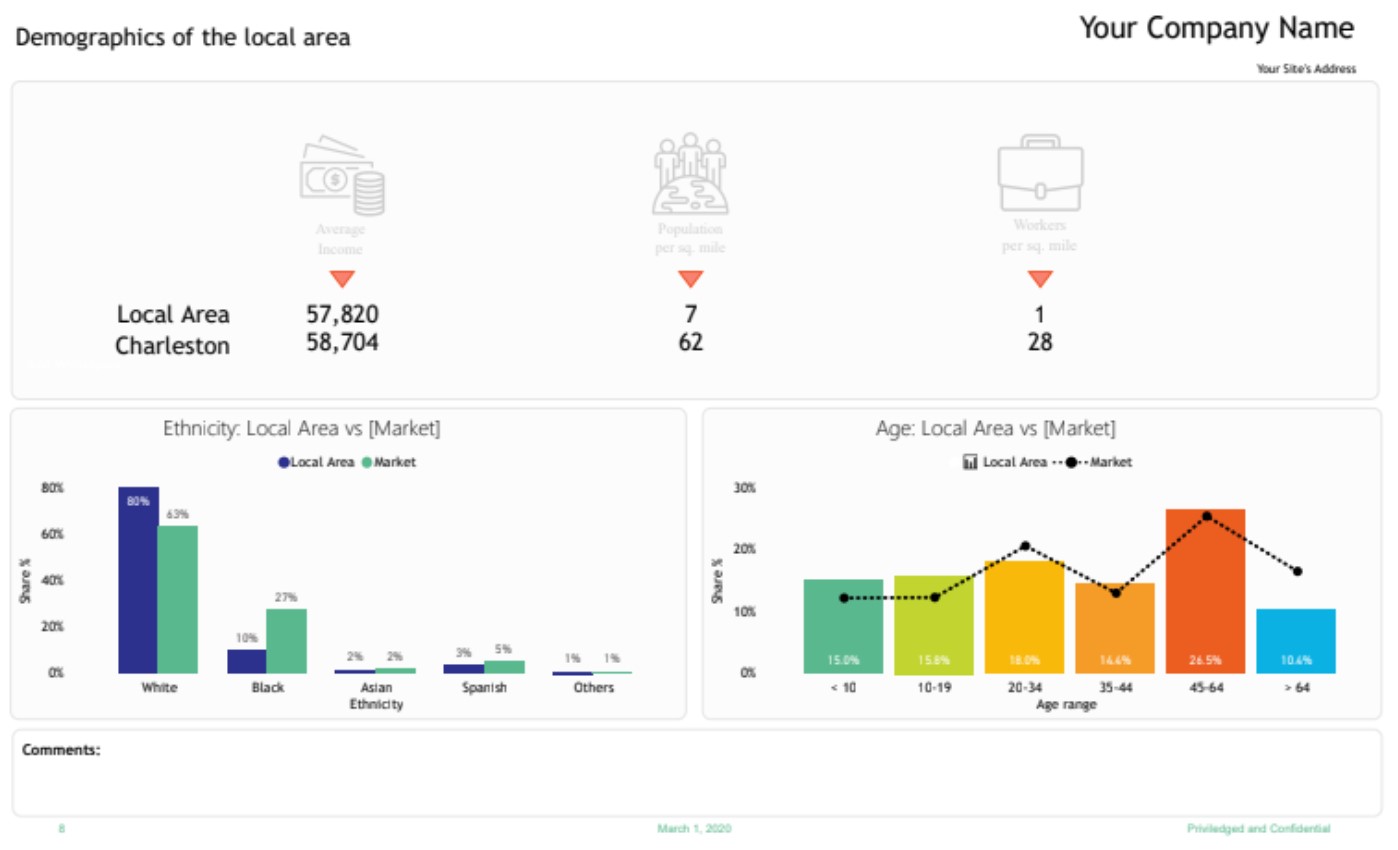 And, as well as experienced commentary supporting the data insights, there's never any guesswork; if retailers have questions or require extra help making decisions based on the outputs, Kalibrate's experts are on hand to walk clients through their results.
Working with a market expert like Kalibrate, and benefiting from the analysis contained in their latest Single Site analysis report, can entirely transform an investors financial decision-making. The latest release provides accurate predictions of a site's potential performance and market share, compared to the competition across all 7 Elements, in the best visual way possible.
The new report delivers exceptional peace of mind ahead of a complex financial outlay, and makes decision-making incredibly straightforward. Get in touch with us for more information about our new Single Site Analysis report, or get a free sample report here.
Subscribe and get the latest updates
You may unsubscribe from our mailing list at any time. To understand how and why we process your data, please see our Privacy & Cookies Policy
Start your journey to more informed decisions today
Get in touch to see how Kalibrate could empower your decision-making.