Q&A - platforms and the Kalibrate roadmap: Bill Dakai, SVP Location Intelligence
In this deep dive Q&A, Bill Dakai gives the latest on the Kalibrate product team, some development big-wins of recent months, and how we're enhancing our location intelligence platforms to help our clients answer even more critical questions.
Your role has changed slightly in the past few months. Do you want to tell us about how product development has evolved at Kalibrate?
Historically, the product function at Kalibrate has very much centered on managing the roadmap – where products are going and what features they need. During the reorganization of development, we built more around the product. That means we can control not only the product direction, but also the customer experience as we go.
From an organization structure perspective, product now covers development, customer support, and client implementations. This allows development to span improvements across the entire customer journey. If there's feature requests coming through support, we're able to prioritize across all those teams to make sure that we're getting customers what they need much faster than was possible in the past.
The goal was to give the clients a seamless transition from implementation to day-to-day use of our software. There's more to product than just the software. People don't buy just software from us; they buy the experience. That's what we hear from our customers time and time again. The support from our experts is just as important as the everyday use of the software. Bringing these functions under one umbrella helps us give our clients consistency on their journey.
Has Kalibrate added development resources?
We brought in an expert on user interface (UI) and user experience (UX) design and he's leading the redesign of our location intelligence product, one major initiative we're working on. Having in-house expertise on UI UX has been extremely important. We're able to design and prototype things very quickly and share that both internally across teams and with our Customer Advisory Board.
We've also put more development resources specifically around our mobile products. Just as we're in process of reimagining our web-based product, we're doing the same thing for our mobility-based product.
Since we brought Intalytics and eSite into the fold, we've been working to integrate their modeling capabilities into Kalibrate Location Intelligence and adding features to eSite's TrailBlazer and Intalytics' SiteIntel. We're now further along on that journey and having additional resources will decrease the time it'll take to achieve system parity.
What have been the big wins of the last 12 months?
The biggest launch has been Competitive Insights, our mobility data solution. Working with our data partner Near, we now have a geofence library for North America, with Australia and New Zealand imminent.
Competitive Insights allows clients, with very little effort, to be able to understand market share trends at both a market level and a trade area level along with historical visit counts. They can answer questions faster than ever; how has business been? How's the market trending – not only at our locations but how are competitors performing? The speed of insight we can generate has gone into overdrive. It's extremely exciting.
We also launched Competitive Insights into our mobile product, so all the functionality is available on the go. For field-based teams or executives on the road, being able to extract site or market-specific insight when you're doing visits, with minimal effort, is something we've been asked for. We're happy to have satisfied that need.
Another major initiative has been electric vehicle charger strategy – and that's not limited to the fuel space. We have datasets and consulting services that our clients are using to prioritize EV rollout. It's something brand new – a lot of brands just haven't handled this type of question before. They don't want to add changers everywhere because adoption levels vary so much even within relatively small geographies. We're helping them understand the types of customers adopting, the types of locations that will be attractive, and crucially, when to roll-out charging and the type of charging to provide. For retailers, it's the 'where' and 'when' to act at each location across their portfolio. That's what we're helping to answer.
What's in the development pipeline?
The biggest project we're working on is the new version of Kalibrate Location Intelligence – KLI 2.0 in internal speak. That includes a significant UI refresh, which will mean the platform has a significant face-lift but that's been actioned with a focus on UX. We want our users to be able to get in, get the insights they need, and act on them or extract them from the platform as easily as possible.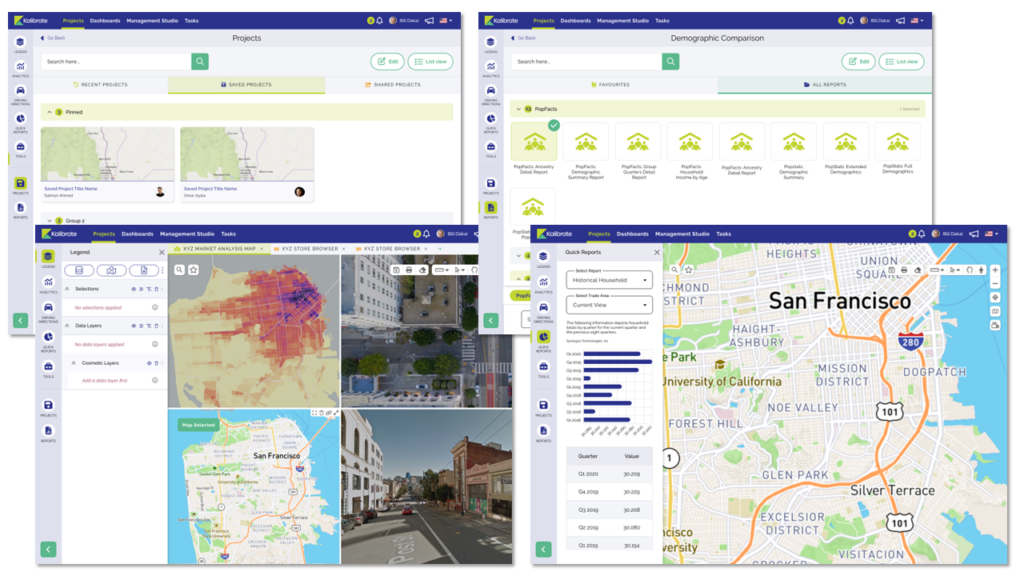 Late 2022, we gave our Customer Advisory Board early sight of the product. Feedback was extremely encouraging, and we received valuable guidance on where we could make improvements and optimizations. Development doesn't work when it exists in isolation from the people using your products. We've always started with questions like 'how does this help the customer?' – that mantra, the internal changes I mentioned above, and the feedback loop we have with clients, will mean KLI 2.0 is the most advanced product Kalibrate has ever launched.
Elsewhere in development, we're adding the geofences for Australia and New Zealand to Competitive Insights. We've pretty much completed this work now – it's being tested by our teams based in APAC to ensure they're satisfied with the coverage, and we expect that to launch imminently.
One thing I can mention – hopefully without giving away too much – is the work we're doing on the marketing capabilities derived from Competitive Insights. A lot of location performance and trend insight, and how that translates to very localized geographies, lends itself to targeted marketing applications. We already have a significant solution set in this space, but some of the outputs generated by Competitive Insights will mean we can help retailers achieve greater efficiency both in direct and digital campaigns.
During the last Client Advisory Board, customer experience was a key takeaway. How is the development group taking that into account through tactical improvements and at a strategic level?
We're really going after customer feedback and internal feedback from client-facing teams. We want to be able to turn things around faster.
Take the work we're doing across our location Intelligence platforms. Historically, the task system was modified to host forecasting models and other things from Intalytics. We're now able to host Intalytics models within KLI and customers are seeing the benefits.
The net result for customers will be benefits in day-to-day platform use – more functionalities, working better – but also long-term as the product strategy takes best practices from across our suite. By keeping the client front and center, and finding out which parts of which platforms are adding the most value, we can ensure we're prioritizing developing where it's really adding to customer experience.
What are we doing in terms of platform development to ensure that products can scale as our clients do?
Scalability is one of the really important elements of our location intelligence software. It's used by small, fast-growing retailers who use our support channel – in effect, our team does everything that they need to be configured in the system – all the way up to the largest of the large. The larger clients have teams solely dedicated to the administration of the system.
Take Kalibrate Location Intelligence, for example. The system itself is extremely configurable through a set of tools inside Management Studio, allowing you to modify the system to work with your data, workflow, and analytics. If you don't have people on staff to use that tool, we do the work on your behalf. No matter where you are in the journey, we can meet you there from a feature standpoint. Then, as your team grows, we turn on additional tools or functionality to meet your needs.
That's important when you make the decision to buy a software platform that meets not just the needs that you have today, but that it also meets the needs that you'll have in the future. The only way to verify that it can meet the needs in the future is to understand how a platform could be configured because it's impossible to know what you'll be asked to do two years or five years from now.
It's also essential to understand the difference between configuration and customization. Configuration is good – it means you're using existing tools and you're configuring the data and the workflows to meet your needs. If you're working with a vendor that customizes software through a custom code base, it gets to be extremely hard to maintain – and from a stability perspective, it gets extremely brittle. It becomes cumulatively more difficult to make changes because it was hard coded to address the challenges you had when you engaged the vendor, but not the priorities you'll encounter in the future.
Retailers are spoiled for choice in the range of location intelligence platforms available today. How is Kalibrate differentiating itself through development?
At Kalibrate, we have a much larger team than our competitors and we truly have an understanding across the entire spectrum – not only retail channels but also size and maturity. So many Kalibrate employees have sat in the retailer's seat, understanding the problems they encounter on a day-to-day basis and how important it is to fix those problems quickly.
We're getting feedback from all sorts of different retail verticals, of different sizes. If you're trying to answer a specific question, there's a good chance we've already answered it for someone else. That comes back to the point about configuration – because we're taking so much feedback from across a diverse set of retail concepts, our tools tend to have greater configuration options as standard.
We also have an unparalleled analytics team focused on solving real-world problems and not just coming up with the latest and greatest AI. We commit to not only creating great models but also ensuring they're understandable. When you're sitting across the table from the CEO explaining a site's projected performance, it's important you can articulate the specific elements that are driving the site's success. Accurate models are great. Accurate and understandable models are even better – that's another way we differentiate.
Is there anything you want to leave with our customers to think about the next time they're using a Kalibrate product?
Talk to us as much as possible – whether that's through your customer success contact or through our platforms directly. If there are feature requests that you think could be helpful, let us know. We have an upvote system that allows you to see what other platform users are asking for. Give it an upvote if it's something you'd value too, and the team will get on it. You can also create your own feature requests for others to boost. As I said, we're increasing the velocity with which we can action changes – there's never been a better time to ask us to build new features or configure our platforms for you!
Subscribe and get the latest updates
You may unsubscribe from our mailing list at any time. To understand how and why we process your data, please see our Privacy & Cookies Policy
Start your journey to more informed decisions today
Get in touch to see how Kalibrate could empower your decision-making.