KLI Platform Update Q2 2022: Map results of sales forecast models and ad-hoc import improvements
The retail market is dynamic and the needs of real estate teams are constantly evolving, so why would your tools stand still? Here, we reveal the latest upgrades, functionality improvements to Kalibrate Location Intelligence.
We are very excited to reveal the Q2 2022 release of the Kalibrate Location Intelligence (KLI) platform. This release includes the mapping of sales forecast results, improvements to the ad-hoc import functionality, and new data sources from our partners. As ever, if you have feature requests or capabilities you'd like to see in our tools, reach out to your customer success representative.
KLI web browser
Mapping of sales forecast results
The sales forecasting module in KLI can now thematically shade the disaggregated sales forecasting results. This means you now have visibility on the sales volume estimated to come from each neighborhood to the proposed new store location. The net result for analysts means you'll be able to understand exactly how the sales forecast is being derived, to give even greater confidence in the results of the applied model.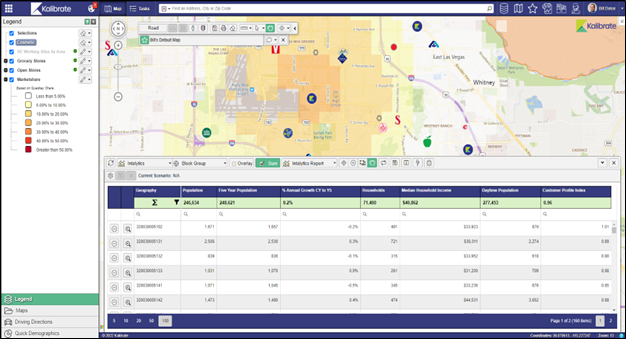 Ad-hoc import improvements
Based on the feedback from our user community, we have redesigned ad-hoc imports to make it easier to keep your layers organized. This was accomplished by introducing the concept of folders, allowing users to pin layers for quick access, and adding an advanced search option within the ad-hoc manager. Each of these items is discussed below.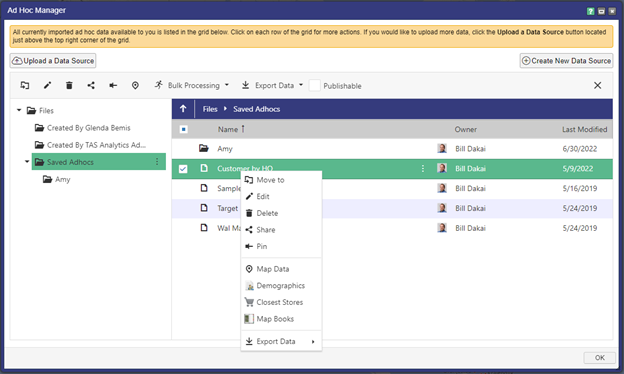 Users can now create and rename folders. Files can be moved between folders by right-clicking on the folder and selecting the 'Move To' option from the menu. The files can be sorted by clicking on the column headers.
Pinning layers
Users can now pin layers to the ad-hoc menu for quick access. This is accomplished by right-clicking on the file and selecting the 'Pin' option. When a file is pinned, it will show up within the 'Pinned Sources' section of the ad-hoc menu as shown in Figure 3 below.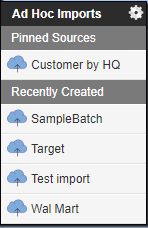 Layer search
The search feature within ad-hoc has also been streamlined to make it easier to find your data. The search feature will search all folders and files and will narrow the results as you type so you can quickly find exactly what you are looking for.
New data sources available
The following new data sources are now available within KLI:
CenterXY: a new data offering from ChainXY that contains data for 28,000 major shopping centers sized 60,000+ sq ft of gross leasable area. CenterXY includes shadow anchors and out parcels to generate the true center profile from the consumer's perspective. Additional information can be found here.

Build Central: Build Central produces databases regarding planned construction. Specifically, the datasets contain information on:
Grocery and retail construction
Single-family residential construction
Multifamily and senior housing construction
Medical facility construction
Hotel/lodging construction
Additional information can be found here.
KLI Mobile:
The next release of KLI Mobile will be available from the Google and Apple stores within the next few days. This release is a maintenance release and includes some bug fixes to Site Tours and other usability improvements such as the ability to customize default pushpin symbols, the ability to delete photos, and the support for parcel data.
Subscribe and get the latest updates
You may unsubscribe from our mailing list at any time. To understand how and why we process your data, please see our Privacy & Cookies Policy
Start your journey to more informed decisions today
Get in touch to see how Kalibrate could empower your decision-making.