Kalibrate deep dive: the staying power of pickleball
The growth of 'eatertainment' concepts shows little sign of stopping. In this Q&A, Dave Huntoon and Matt Montgomery assess pickleball's case for developer consideration, potential co-tenancies, and its long term prospects.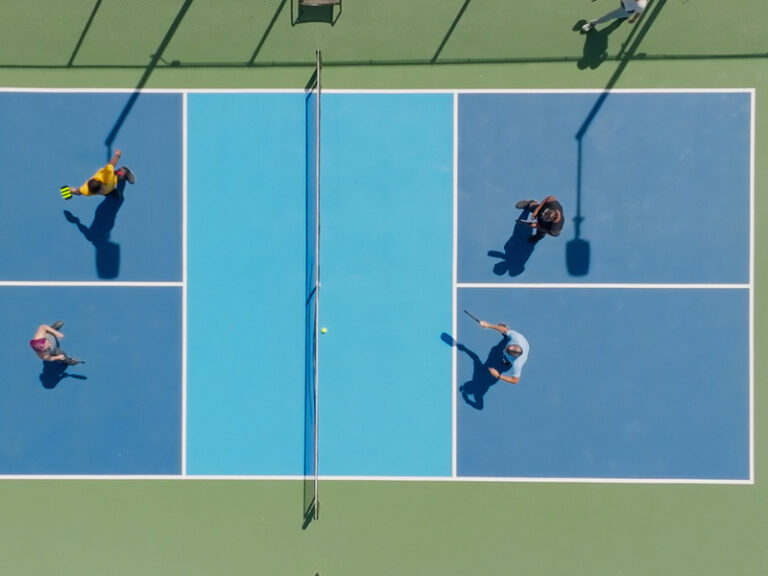 For a sport that wasn't on the radar of most consumers in the U.S. until very recently, pickleball has taken the nation by storm. There are an estimated 36.5 million pickleball players in the U.S., a number that is likely already outdated by the time this blog is posted. Celebrities ranging from LeBron James to Tom Brady have invested in ownership of teams in Major League Pickleball. An accessible activity that appeals to people of all ages, the sport is showing signs of real staying power in the consciousness of consumers.
In the spirit of competitiveness, this blog debates the merits of pickleball, its place in the "eatertainment" sector, and the extent of its long-term viability. Our combatants are two senior leaders from Kalibrate: Matt Montgomery is running with the bulls, while Dave Huntoon is staking out a bearish position.
Let's level the playing field to start – have you played pickleball?
Matt Montgomery: Yes, my family has played dozens of times. There is a Chicken N Pickle less than two miles from my house in the greater Kansas City metro. Our neighborhood has painted pickleball lines into our tennis courts. We now own pickleball boards – our kids (ages 11 and 9) love it!
Dave Huntoon: I have not played the game but will not let that stand in the way of professing my opinion. (However, I must confess that our son gave my wife and I pickleball racquets and balls last Christmas, so I suspect I have a pickleball game in my future).
Playing is one thing, but you do you spend money on food and drinks as well?
MM: The concepts that we're starting to see scale nationally vary in terms of whether they offer pickleball as part of a larger "eatertainment" experience (such as Chicken N Pickle and Smash Park) or if they are purists that are focused on playing pickleball (Ace Pickleball Club, etc.). The quality of food at Chicken N Pickle is such that we've actually been to dinner there without playing. Their space has also proven conducive to hosting large groups for celebratory events – for example, my daughter's end of season volleyball gathering was held there.
Tell me your Bull vs Bear stance on the pickleball phenomenon.
MM: In my bullish opinion, the quality of the offering is what is ultimately going to drive the success of these types of operators. With a family of four, we tend to gravitate to concepts that pair activities with food and beverage.
DH: My overall bearish perspective is that pickleball is a phenomenal fad right now and is not a savior for American shopping centers. Placing a pickleball court in a dying regional mall or shopping center will not turn it around anymore than a Whirlyball court or pinball arcade will.
While I view pickleball as a legitimate entertainment venture, I question whether these concepts will bring large numbers of people to a shopping center on a daily basis. I anticipate that pickleball will attract more regular adherents than ax throwing, indoor sky diving, or fowling (that bizarre combination of football and bowling), but won't bring in enough traffic of their own accord to act as a viable anchor tenant.
MM: I agree with Dave in that it takes the right type of development or center for this to work, and I wonder whether the acreage/footage requirements alone will relegate these tenants primarily to greenfield developments.
That said, I couldn't disagree more with Dave specifically about the amount of traffic they drive as well as the extent of the trade areas that they draw from. Dave – if I can ever get you to visit Kansas City (we do have a new airport, you know), I think you would be shocked at the activity that these concepts generate on a daily basis.
DH: Okay, so maybe the first pickleball court in a market will draw well. When "Pickleball R Us" is deployed across the country, don't count on that bullish trade area for long.
How much cross-shopping or co-tenancy is there with one of these pickleball concepts?
MM: What I've seen work well to date are complementary restaurant operators – think something like Andy's Frozen Custard, which is a cotenant to Chicken N Pickle in the larger Prairiefire shopping center development in Overland Park, KS. Ultimately, having numerous dining options proximate to or located within a larger shopping center with pickleball provides a synergistic "one stop shop" for a family.
DH: As more of these units open, their trade areas are going to get smaller and smaller.
MM: Always the bear, Dave. Did I mention birthday parties? Not unlike TopGolf, Main Event, or Dave & Buster's, pickleball has been a solid addition to the birthday party rotation.
DH: Fair point. I would acknowledge that it seems like pickleball could become somewhat of a nucleus for restaurants or brewpubs. Residents will patronize an area with a lot of restaurants, and a pickleball court could add to that draw. Beyond that, I question whether there is meaningful benefit to other types of tenants. Take grocery – I'm not doing my weekly grocery shopping and playing pickleball (not that I do the weekly grocery shopping in our household, but that's a separate issue).
Should developers and landlords actively pursue pickleball brands? Why or why not?
DH: For the right type of development, yes. You will also need the right demographics, although I suspect pickleball has a pretty broad appeal.
MM: I agree. Pickleball concepts will have fewer deployment opportunities than other eatertainment concepts… in many respects, I see similarities to TopGolf (which is likely at the most challenging end of the spectrum).
DH: Why is that if you're so bullish on this concept?
MM: It's a function of the space requirements. Given the multi-court layouts, pickleball concepts might realistically "fit" in ~10-15% of existing shopping centers whereas mini golf concepts like The Puttery or Puttshack have a much greater universe of centers that they can potentially locate within.
To give a pickleball concept staying power, what do they have to do?
DH: For those concepts that include a food and beverage component, food quality is #1.
MM: That is exactly what I was going to hit on. They'll have to maintain and evolve their menus to maximize their capture of share of wallet.
DH: The bear in me would also say to design the pickleball courts with flexibility and future redevelopment / an ability to repurpose in mind. As the fad fades, be aware that there may have to be another solution should demand dip.
Is there synergy with hotels?
MM: I'm not so sure about that, although I do believe there's potential in vacation destinations where you have a mix of hotels and rental home options. Think 30A or the Destin area in northwest Florida – having this type of concept there gives people something to do other than going to the beach each day.
DH: I tend to agree, although a themed hospitality concept like Great Wolf Lodge would be a good potential co-tenant in my mind.
Do you have any final comments?
MM: Significant consumer traffic… broad demographic appeal… what's not to love?!
DH: Playing pickleball looks like a lot of fun, but it is in no way a savior for the shopping center industry.
Subscribe and get the latest updates
You may unsubscribe from our mailing list at any time. To understand how and why we process your data, please see our Privacy & Cookies Policy
Start your journey to more informed decisions today
Get in touch to see how Kalibrate could empower your decision-making.