Flower power: lessons in market characteristics from the marijuana industry
How can unique market characteristics impact the potential trade area of a location? We find out with a look at the recreational marijuana industry in Michigan.
At Kalibrate, we believe that data can empower decision-makers to maximize the return on their investments – whether that's through smarter site selection or more efficient marketing spend.
While the customer profile of a brand is a key determining factor in assessing a location's potential performance, there are often unique market characteristics that may make sites more viable than they would be elsewhere.
Let's look at that in action in the growing retail marijuana industry in Michigan.
A sleepy town
The village of Constantine, founded in 1831, is a small town in southern Michigan. Constantine has just over 2,000 residents, with an economy highly dependent on agriculture. The biggest retailer in Constantine is a Dollar General store on the south side of town, and the downtown can be appropriately described as "sleepy".
There had not been much in the way of new retail development in recent times – all of that changed in 2021 when suddenly three marijuana dispensaries opened in a 15-month period (with another on the way).
Legalization of marijuana has been progressing steadily throughout the U.S. over the past 5 years, with 18 states allowing the sale of recreational marijuana as of early 2022. My home state, Michigan, first allowed recreational marijuana dispensaries in 2019, and currently has more than 600 medical and recreational dispensaries statewide. Ann Arbor leads the pack with 24 dispensaries and more on the way – not a surprise for the home of the University of Michigan and the annual Hash Bash that dates back to 1972.
However, it is not only liberal university towns that feature dispensaries. Constantine saw two dispensaries (The Dude Abides and Constantine Wellness Center) open in January 2021, with a third (Prosper Cannabis Company) opening in late March 2022. What is it about this small town that has attracted so much attention?
The answer, it turns out, is Constantine's proximity to the Indiana state line. Constantine is located less than 6 miles north of the Michigan-Indiana border, with ready access provided by U.S. Route 131. This strategic location provides the citizens of Elkhart, Goshen, and South Bend – all communities that dwarf Constantine from a population perspective – with convenient access to legalized marijuana.
Mobility data uncovers more
In an effort to better illustrate how tiny Constantine has transformed from sleepy rural outpost to retail magnate, Kalibrate leveraged Massive Mobile Data to better understand consumer traffic flows to Constantine dispensaries. The Dude Abides (apologies to Jeff Bridges) currently draws 41% of its customers from Indiana, while the Constantine Wellness Center draws 34% of its customers from south of the state line.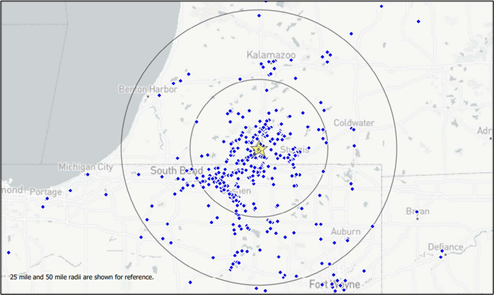 Is it possible that we are overstating the impact of these dispensaries on the flow of consumers from Indiana into Constantine? To test that, we assessed the current drawing power of other Constantine retail and restaurant operators. Indiana accounts for only 5% of the Constantine Flooring Center's customer base, with similar results for the Constantine Auto Parts and Hardware Store (6%). Restaurants? The Chicken Coop, located on the south side of town, gets 18% of its customers from Indiana, while the Harvey House on the north side of downtown Constantine only gets 10% of its patrons from south of the state line. (We excluded Dollar General from this assessment, because they have a sister store in White Pigeon, halfway between Constantine and the state line.)
While we are not in a position to report on the profitability of the dispensaries in question, it is clear that their location just north of a state that has not legalized marijuana is proving to be a significant advantage. They are undoubtedly monitoring state government in Indiana – if the Hoosier State ever decides to legalize pot, a significant chunk of the Constantine dispensaries and associated retail sales will (dare I say) go up in smoke.
Lessons in unique market characteristics
So, what can those making location decisions take away from our delve into Michigan's flourishing recreational marijuana industry?
Understanding how unique market or site characteristics can distort a trade area of a site should not be overlooked when assessing potential performance. The application of mobility data allows us to quantify just how much marijuana retailers have outperformed concepts from other industries in terms of cross-state draw.
Neighboring markets will always have distinct social and economic characteristics that make one or the other a more appealing option depending on a brand's concept, but legislative factors can also influence customer behavior and potential.
Subscribe and get the latest updates
You may unsubscribe from our mailing list at any time. To understand how and why we process your data, please see our Privacy & Cookies Policy
Start your journey to more informed decisions today
Get in touch to see how Kalibrate could empower your decision-making.