Petroleum pricing in Canada — the Q1 2023 report
Despite lower crude prices, gasoline prices rose in the first quarter, while diesel prices declined upon lower wholesale prices in the first quarter of 2023.
Despite lower crude prices, gasoline prices rose in the first quarter, while diesel prices declined upon lower wholesale prices. Retail gasoline prices climbed 8.3 cents per litre in the first quarter in Canada as wholesale prices rose and refining margins expanded; however, diesel prices experienced a significant decline as wholesale prices plummeted 30 cents per litre.
The War in Ukraine reached its one-year anniversary during the first quarter of 2023. Despite disruptions to the global petroleum supply chain in the months following the invasion from economic sanctions, which sent crude oil prices soaring, global crude oil trade routes appear to have adjusted, and crude prices trended toward levels seen before the invasion in the first quarter.
Fears of economic uncertainty persisted throughout the first quarter, also contributing to falling crude oil prices. The U.S. Federal Reserve raised its prime interest rate twice to reduce inflation this past quarter, and the Bank of Canada raised its prime interest rate at the beginning of the quarter and has since held it.
So what happens in petroleum next?
A surprise production cut announced by the Organization of Petroleum Exporting Countries and allied countries (OPEC+) is expected to tighten crude oil markets and push prices higher in the coming months. In addition, increased demand from China as the country emerges from pandemic lockdowns could further tighten crude oil markets. Both factors could contribute to higher crude prices and push retail gasoline and diesel prices higher in the coming months.
Read the full report from Kalibrate Canada to get detailed insight on Canadian petroleum pricing in the last quarter, including: 
A gasoline and diesel market overview

 
Find out how prices have changed across the nation — with a breakdown of the final pump price, and an explanation of supply, demand, and other influencing factors. 
The market outlook for Q2 2023

 
Read Kalibrate's analysis on how volatility will affect the market — and Canadian pump prices in 2023 and beyond. 
A deep-dive into premium fuel demand trends and an explanation of higher prices

 
Data available from the U.S. Energy Information Administration (EIA) shows in the U.S., higher octane fuel use has grown from 8.7 percent in 2011 to 12.1 percent by 2021 (Figure 4). Canadian data shows a similar trend rising from 8.8 percent of the pool of fuel sold to 10.7 percent in 2020 before declining in the last two years to 9.4 percent. Looking at the last year, the price differential between premium and regular grades has continued to increase, rising nearly a cent and a half per litre. Find out more in the free report.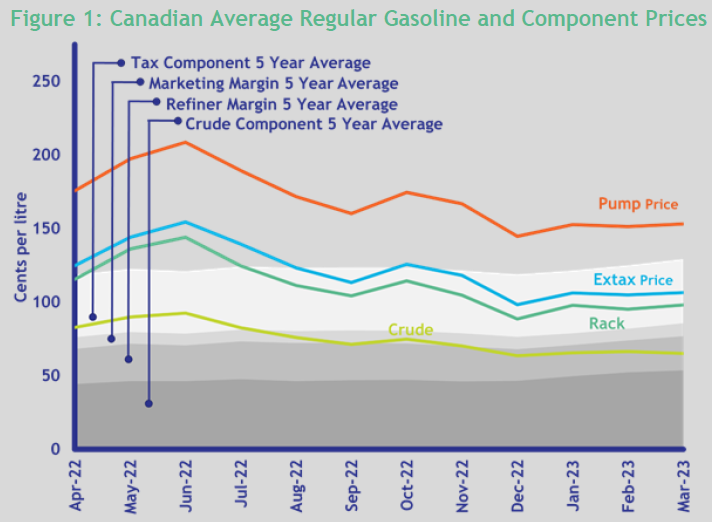 Download and read the full report for an in-depth understanding of the North American and Canadian fuel market and the drivers for the in pricing. 
Subscribe and get the latest updates
You may unsubscribe from our mailing list at any time. To understand how and why we process your data, please see our Privacy & Cookies Policy
Start your journey to more informed decisions today
Get in touch to see how Kalibrate could empower your decision-making.