EV adoption: A study in Las Vegas
As we're heading out to Las Vegas for this year's NACS event, we thought we'd take a look at EV adoption and the current fuel network, to see if we could spot any untapped demand for retailers to roll out charging facilities, both now and in the future.
We're speaking about electric vehicle charger strategy with lots of retailers in the fuel and convenience space and beyond, and so we analyzed the EV adoption profile and presence of chargers around the Las Vegas Convention Center, the venue for this year's event.
Let's start with the EV segmentation profile for the area surrounding the convention center in Las Vegas.
While there is a fair share of innovators and early adopters, it is anticipated that adoption will start gaining traction later on when the early majority comes into play, and, even more importantly, since the area indexes high on the late majority, it shows that increased utilization is still some years off.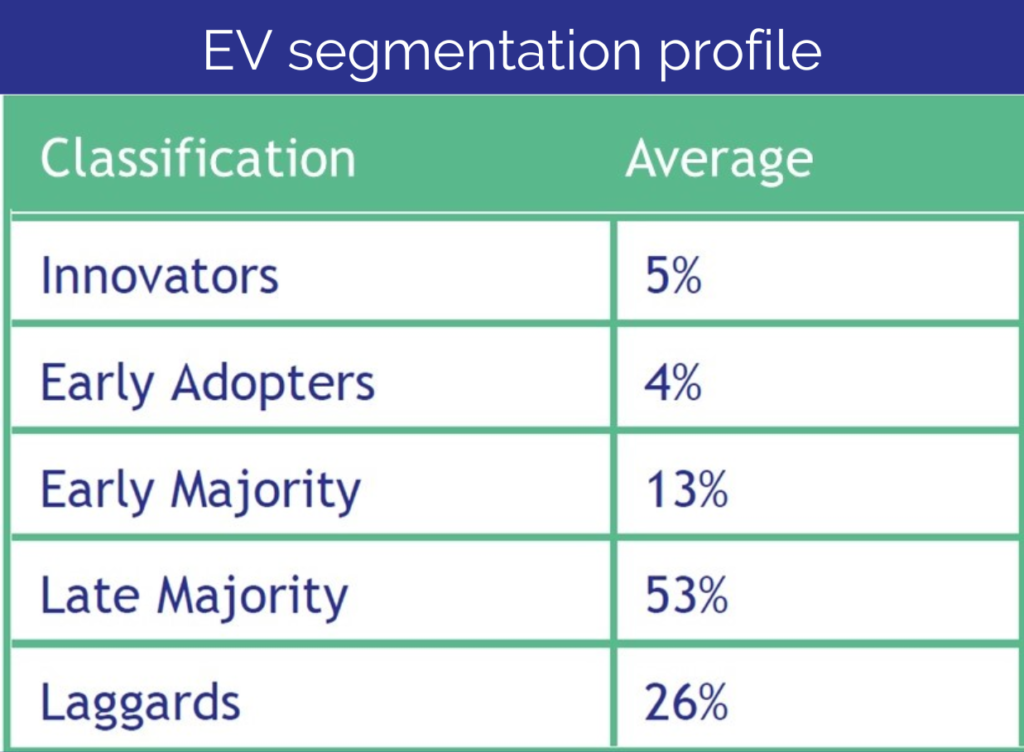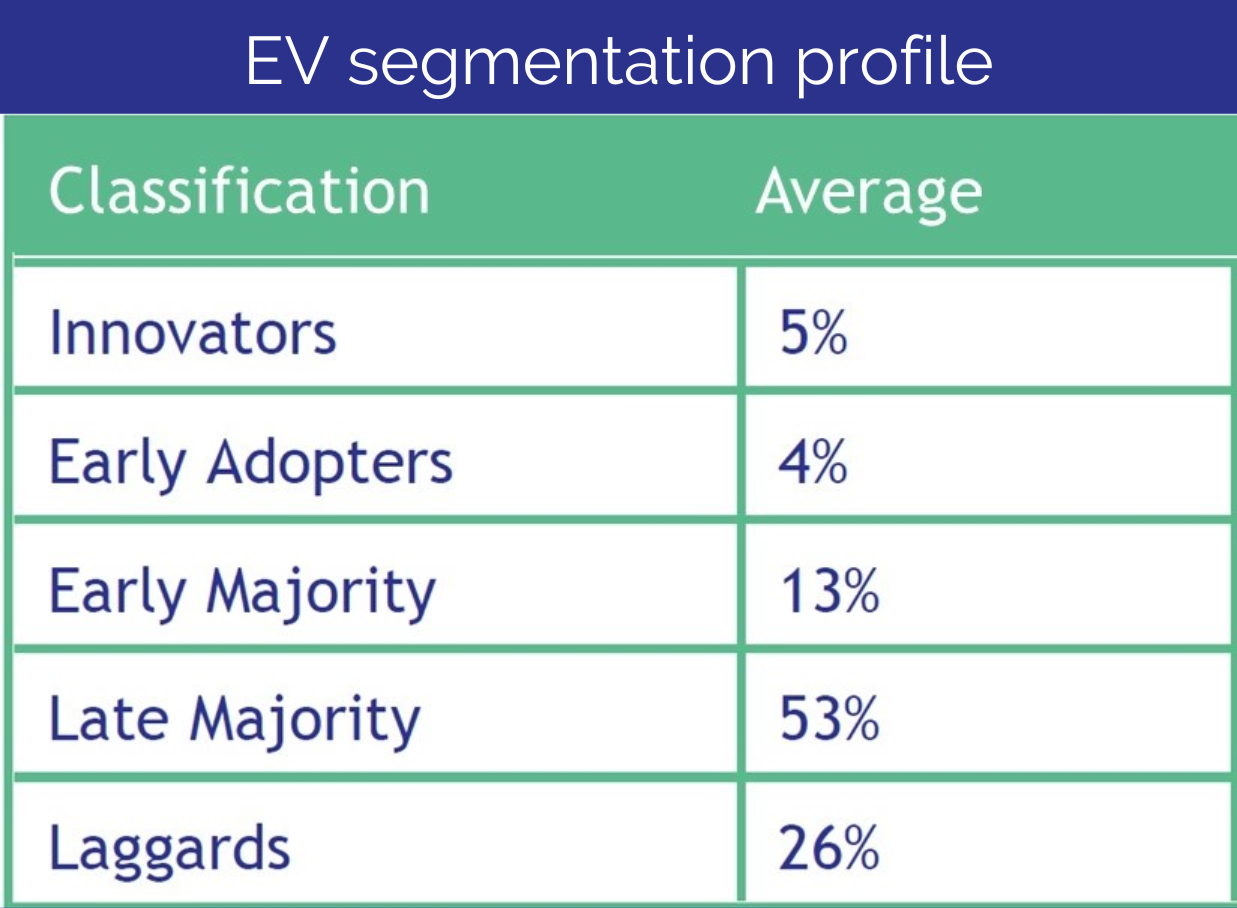 A key part of understanding EV segmentation is being able to visualize how these segments are distributed across the market.  There are specific pockets within the market where adoption starts, and those areas represent those consumers that we should be focused on, both locally and based on the journeys they take.
The star is the Las Vegas Conference Center
Now let's look at the current network of gas stations and EV charging points.
There is a high concentration of EV chargers around Highway 15, mainly catering for the transient customer, as well as a large concentration of innovators/early adopters. In surrounding areas the innovator and early adopter segments still present opportunities that have not yet been tapped by charger presence.
Very few of these chargers are located on fuel station properties, but many fuel stations are well positioned in areas of high adoption and present an opportunity to add chargers, see the red circled area below.
Others are in areas of low adoption and likely will not give the return in the next 5-10 years – see the yellow circled area above.
Assessing opportunities
We analyzed a gas station in the high adoption area where very few chargers exist.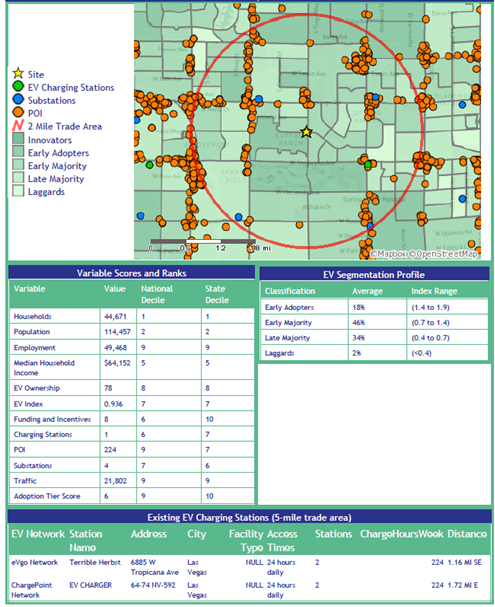 There are only two EV charging locations within a 5-mile trade area of this location, but the site indexes very high on EV adoption, with almost 20% falling into the early adopter segment and a further 46% in the early majority. Current EV ownership supports this, indexing in the 8th decile both nationally and at a state level, i.e. it is higher than 80% of locations in the US.
Additional factors contributing to the location's attractiveness are the traffic and POI/retail drivers, as well as available funding and incentives.
When we look further at where the customers visiting the location come from, we can see a high proportion come from those areas that have a high concentration of early adopters.  This further validates that this location presents a great opportunity to provide charging facilities that are likely to have a higher rate of utilization in the short/medium term.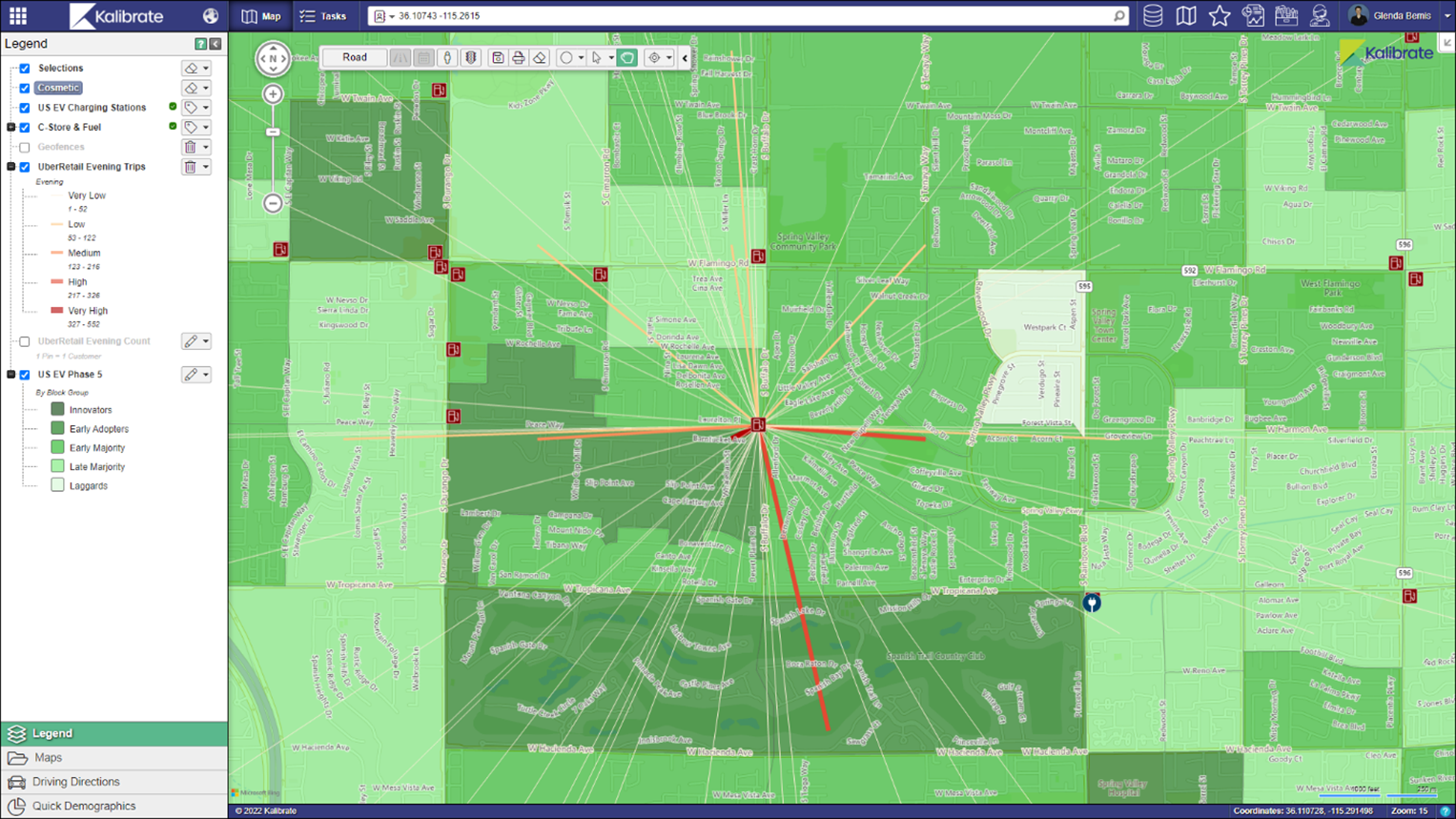 For more information or to find out how to identify untapped demand for EV charging in your market, get in touch with the team.
Subscribe and get the latest updates
You may unsubscribe from our mailing list at any time. To understand how and why we process your data, please see our Privacy & Cookies Policy
Start your journey to more informed decisions today
Get in touch to see how Kalibrate could empower your decision-making.