Transforming traffic data: 4 ways to turn traffic data into site level decisions
A guide to turning traffic data into business decisions
What is traffic data?
Physical businesses and residential projects require up-to-date information about traffic patterns around specific locations, to inform key strategic and planning decisions, define improvement plans, prepare business cases, and carry out cost/benefit assessments.
This basic information is known as traffic data.
Traffic volume data is normally an annual average daily count of traffic, collected across specific countries and gleaned from global market studies. Whilst this information is often available for free from local departments of transport, it can be out of date and delivered in inconsistent formats and patchy coverage. Using freely available data, therefore, can be incredibly difficult to analyze across multiple locations or datasets.
A lot of different sectors need this information, and seek the help of a traffic data supplier like Kalibrate to provide it. The businesses we supply this information to include fuel retailers, real estate agents, convenience stores, out-of-home advertisers, and town planners. Sourcing traffic data from a dedicated supplier ensures it's consistent, fit for purpose, and provided in easy to analyze formats that drive key insights and guide decision-making.
What is the right type of traffic data to use?
When a business decides to source traffic data, it's essential the information is current, clean, and standardized across the locations under consideration. Unfortunately, there isn't one universal traffic count format currently deployed; each agency publishes their traffic count studies in differing formats.
When deciding the right type of traffic data to use, you should speak to the data supplier. A good third party traffic data supplier will do the hard work of translating the thousands of file types, formats, rows, columns, and curve balls into one standardized database.
The result? Datasets that are easy to read, process, and combine, and a guarantee that you can immediately start using the information to make better business decisions.
What are the primary count categories?
There are two primary categories of traffic volume data: ADT and AADT.
Average daily traffic (ADT) 
This is the 24-hour average daily traffic. The total traffic volume during a given time period (more than a day and less than a year) divided by the number of days in that time period.
Average annual daily traffic (AADT) 
This is the 24-hour average daily traffic (ADT) to which factors (seasonal, monthly, daily) have been applied.
What types of traffic data files can you expect?
Traffic volume data is usually available in standard GIS file formats including:
SHP Popular GIS file format
DBF Standard database file
CSV Comma separated values file compatible with MS Excel
TAB MapInfo file (common GIS file)
PDF Map image
GIS stands for geographical information systems. Essentially this is any software that uses latitude/longitude for its data points and analytics.
Take a look at the example visualization below: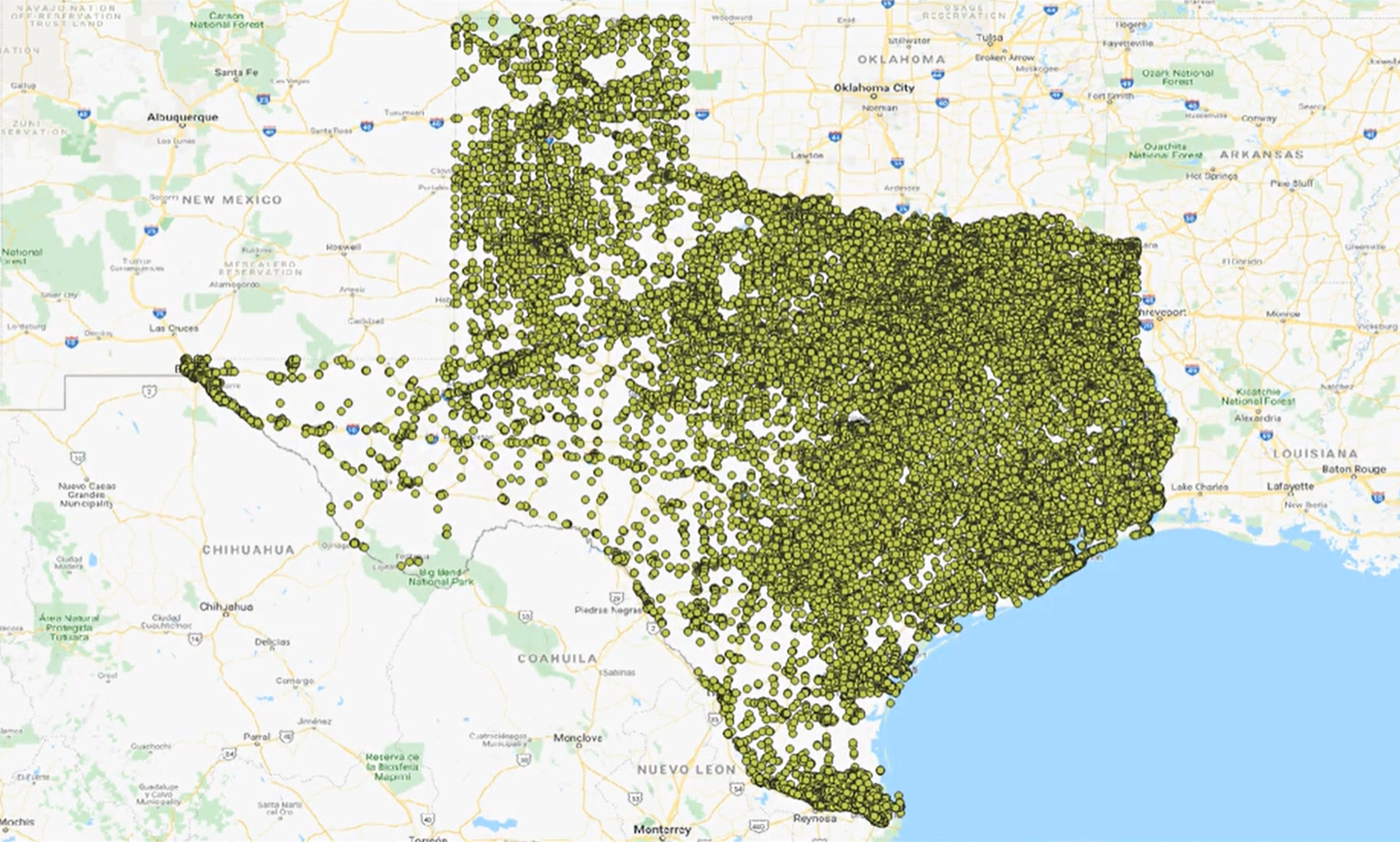 Kalibrate's TrafficMetrix® is the most complete, commercially available global traffic count database. Read more about the value of traffic data in the TrafficMetrix® ebook, or watch the TrafficMetrix® Now webinar to see what's new.
What to look for in a traffic data supplier
As with any third party data supplier, not all data is created equal.
For a quick rule of thumb—if it looks too good to be true, it probably is. For example, many traffic data organizations do not update their traffic count data on a regular basis to keep it current.
Other agencies may update only portions of data annually, whilst others could go years between updates. At Kalibrate, we undertake quarterly data updates to ensure our datasets remain accurate and complete, giving our customers the ability to make reliable decisions.
If all you're looking for is a single traffic count in front of your location, you can usually obtain that traffic count for free from your local government agency's website. If you want to see trends and gather actionable insights over a more complex period of time, however, it's advised to seek assistance from a trusted traffic data supplier.
Kalibrate's TrafficMetrix® is the most comprehensive database of traffic counts, globally. It gives you a deep understanding of local markets, so you can enhance your planning decisions. Request a free sample of Kalibrate's current, complete, and accurate traffic data counts.
Here are some key questions to ask your traffic data supplier:
Where do you source your data from?
How often is it updated?
What format is it provided in?
Do you provide a free sample data set in advance?
TrafficMetrix® Published Traffic Counts database is published quarterly and included in our global database of over five million traffic counts.
When to use traffic data
Traffic data collection has a number of key use cases, but it is best used when analyzing the feasibility of a new business location.
For example, when making strategic decisions, do you know:
The percentage of traffic that pulls off the road?
The impact of proposed infrastructure such as traffic lights and junctions?
The impact of potential major construction, such as building a new bypass?
Planning a new site build takes good gut instinct, and that means instinct that's well informed with data-driven scenarios
Anila Siraj, Senior VP and Head of Kalibrate Data Strategy
First, let's consider the absence of traffic data. For example, if you were considering the acquisition of two separate businesses and were not aware that one location saw traffic continuously, while the other experienced high traffic for just an hour a day, it would be easy to make a poor investment.
What's more, if you already owned these locations, it would be challenging to make the right operational decisions on opening hours, stock, and staffing levels without that key traffic information.
Understanding the flow of vehicles passing by any prospective site is critical to success; those vehicles all represent potential customers.
The most popular uses for traffic data include: 
Convenience stores selection modeling
Commercial real estate brokers marketing their property
Restaurants for expansion planning
Technology companies modeling consumer behavior
Planned residential communities
Government planning education institutions
Out of home advertising
For in-depth information about harnessing traffic insights to make better business decisions and ensure the feasibility of your new site, read our blog: TrafficMetrix®️ and you: your guide to getting the most value out of traffic data
Is traffic data just for fuel and convenience retail?
While traffic count data is an essential piece of the puzzle for fuel retailers looking to invest in a new location for a site build, many other businesses can benefit from this information.
For example:
A commercial real estate company can use traffic count data for marketing properties
A tech company can integrate traffic data into its platform to model consumer behavior
Regardless of what products or services they sell, retailers with access to detailed, accurate traffic counts can achieve various business goals.
Companies of all sizes and from many industries should utilize traffic data to answer a number of business questions. For example, Kalibrate has provided traffic data to:
Real estate and construction outfits
Out of home advertisers
Network planners
Coffee shops
Cell phone companies
Transportation companies
Grocery stores
Budget stores
Hotel chains
Retail restaurant chains
Financial institutions
Signage providers
Kalibrate's biggest clients use traffic volume data for demand-based modeling, and as a useful supplemental dataset to any existing data they already have.
Any business that needs a strategic understanding of traffic flow trends around an identified location, can find value in TrafficMetrix®.
Converting traffic data into actions
We've established that traffic data can be gathered from a number of official bodies or third party agencies.
Free data, however, is rarely fit for purpose. Data from a questionable agency, meanwhile, may be cheap but perhaps out of date. In order to turn traffic data into key actionable insights, you need clean, versatile information from a reputable provider.
TrafficMetrix® provides retailers and other businesses with a deep understanding of local markets, so they can enhance their strategic planning decisions. Request a free sample of Kalibrate's traffic data to see it for yourself.
There are three types of retailers:
Those who do not collect or use traffic data
Those who collect traffic data, but poorly
Those that collect traffic volume data with an eye on strategy
First, let's assume a retailer is interested in collecting information about traffic in order to sharpen it's strategic planning. The second type of retailer, most likely using free data, will soon come across roadblocks with integrating this data and struggle to convert it into the correct format. It is almost impossible to take decisive, strategic action from lines of disparate data. In this scenario, the retailer is likely to receive poor insights at best, give up entirely at worst.
The third type of retailer has invested in accurate, up-to-date traffic data from a trusted third party like Kalibrate. This retailer can gain access to raw information that's easy to use and versatile. In this scenario, traffic data becomes core to the business' decision-making process.
This business is much more likely to make informed strategic decisions by incorporating traffic data and achieve a higher ROI on its retail sites.
Kalibrate is home to the largest verified global data set of traffic data, fuel, and convenience retail intelligence in the world. See how to use, import, and visualize traffic data in this short video:
Start your journey to more informed decisions today
Get in touch to see how Kalibrate could empower your decision-making.