(Finally) back to the US - Oliver Shaw, Kalibrate CEO
Oliver Shaw shares details of his visit the US to catch up with our customers and the wider Kalibrate family and take in the NACS event in Chicago.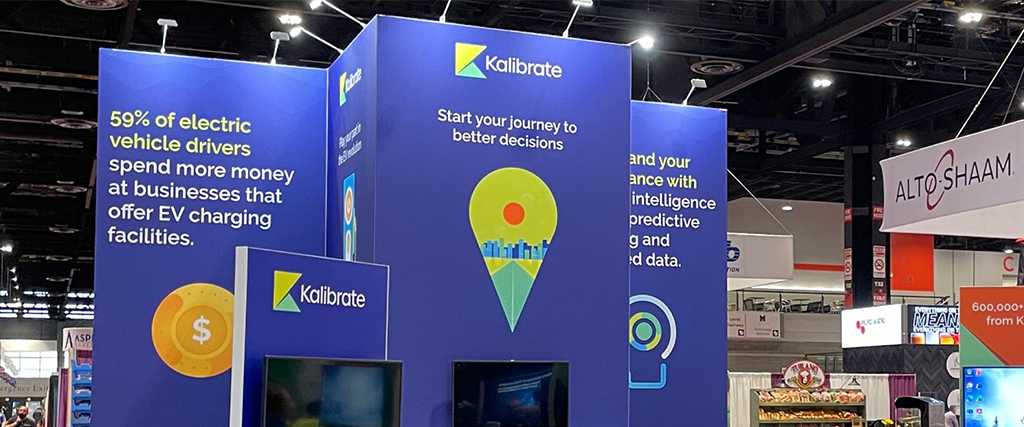 Finally, after many months of lockdowns and travel restrictions, UK members of the Kalibrate team were able to travel to the US. Here, Kalibrate CEO, Oliver Shaw, shares his reflections on his transatlantic trip and some key takeaways from meeting our US-based Kalibrate team and customers.
What was your itinerary? 
I haven't managed to get out to the US since December 2019 so I was keen to make the most of the trip. I managed to cover four cities, visit three of our offices, and take in two days of the NACS show in Chicago. I went from Chicago out to Boston, on to Providence, and then to Dallas. I was able to meet some of our key customers both at NACS and beyond – a packed schedule, no doubt, but with so much to catch up on it really had to be.
What was it like to be back out at an event?
Great! On a professional level, undoubtedly the biggest challenge of the last two years has been the lack of face-to-face contact with our customers. During that time, we've delivered two rounds of our own customer conference virtually, so we've been adapting just like everyone else. The team at NACS did a great job of facilitating a safe event with all the appropriate protocols in place.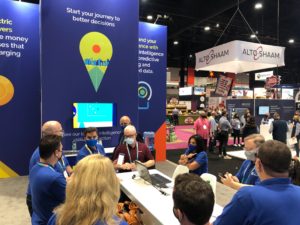 There was certainly a buzz around the event, and I could tell lots of people had really missed the interactions. Spending time with the wider Kalibrate team, customers, suppliers, other delegates attending just to see what's happening in the market – I'd really missed that. I learned so much from our customers and our colleagues in the US and can't wait to get back out there.
Clearly much has changed since we were last all together in one place, but on a basic level, everyone attending was there to update themselves on what's changed since we were last together and build relationships, so we're best equipped to deliver for our respective customers.
We've launched our electric vehicle solution since the last event, what was the sentiment around EV chargers among fuel retailers in the US?
We had a lot of conversations about EV. Our EV lead, Anila, was among the busiest of our team at the event. It's a fast-moving market. Of the fuel retailers we spoke to at NACS, most – if not all – had recognized they needed to develop a plan imminently. Some were already at the implementation stage in specific markets, others were a bit earlier in their journey and needed to firm up the opportunity and align with their mid- and long-term strategy.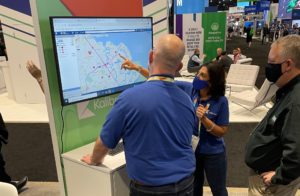 Most Kalibrate customers were aware we had enhanced our EV capabilities in the past year. I know the team had plenty of opportunities to showcase the software and demonstrate use cases on the booth. In addition, NACS ran several educational sessions on EV, so I think there was a broad consensus that this is coming and is going to be huge for our market.
What were customers telling us about at NACS?
The backdrop of the past year and a half has been uncertainty, but the core priorities of our customers remain around making smart network planning decisions and combining location intelligence into their business process to achieve their revenue goals. It's clear there is a lot of change going on so being responsive to conditions in their market is a priority.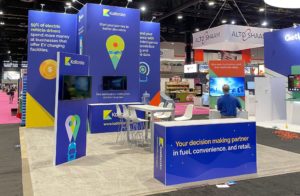 I'm constantly impressed by the innovative nature of the businesses Kalibrate works with. Both the team and I heard plenty of stories of how retailers were adapting their locations to meet the expectations of their customers from delivering an essential service and supporting front-line teams to thinking through the development of fresh food offers, delivery, and cashless stores.
Tell us about your visits to our US offices
We were fortunate enough to welcome a few members of the TAS, eSite, and Intalytics teams over to Manchester in the week before my visit, so I hope they were happy to return the favor in hosting me!  It was great to meet the wider teams at our location intelligence businesses. I had the honor of cutting the ribbon to open TAS's brand new office in Lincoln.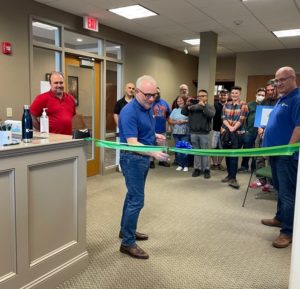 Intalytics and eSite joined the Kalibrate group during the height of the pandemic, so I hadn't had the chance to meet with many of the team in person before. Putting faces to the names you've exchanged a thousand emails with is always good – I suppose the rise of video calling has aided that slightly, but some people are always taller or shorter than you'd imagined on a video call!
Based on your time with customers, how would you gauge their outlook for 2022?
I met representatives from all types of businesses during my visit, from fuel retail to restaurant, educational to service retail. Across the Kalibrate Group, we serve a diverse set of industries, but the overriding view is that the outlook is bright.
It is clear that clients have used the period to examine their business models and plans and identify what they want to achieve. This is leading to some ambitious objectives and a real focus on getting things moving.
Of course, there will be challenges, but the past eighteen months have shown the adaptability of businesses globally. Late 2019, nobody could have anticipated the level of disruption we'd see in the months that followed. But they're all still here, their customers still value the products and services they deliver, and I see no reason that will change looking forward.
At Kalibrate, we're fortunate enough to work with some very sophisticated businesses and some very talented people. I'm excited by the conversations I had with our customers; they have big plans for 2022, and we're happy to be playing our part in informing the decisions that help them execute on those plans.
Subscribe and get the latest updates
You may unsubscribe from our mailing list at any time. To understand how and why we process your data, please see our Privacy & Cookies Policy
Start your journey to more informed decisions today
Get in touch to see how Kalibrate could empower your decision-making.