UK government to force fuel retailers to publish live prices
Live prices are common in other European countries with France, Belgium, and Germany all requiring fuel retailers to submit pump prices, so how will live pricing fare in the UK?
The UK government will require fuel retailers to publish live prices in a move it believes will increase competition and drive down costs for consumers.
Earlier this year, the Competition and Markets Authority (CMA) began a consultation into how quickly reductions in wholesale oil prices were being reflected at the pump. Energy Security Secretary Grant Shapps said the scheme would increase transparency.
Live prices are common in other European countries with France, Belgium, Spain, and Germany all requiring fuel retailers to submit pump prices. However, some of these markets have interesting pricing dynamics and have also seen legislators express concern that consumers at the pump are not yet feeling the benefit of the falling oil prices.
So how will live pricing fare in the UK? Let's consider the recommendations and see if we can anticipate anything the Govt and CMA may have overlooked.
The recommendations
The following wording is taken directly from the CMA
"The government should create, on a statutory basis, an open data fuel finder scheme. This would require retailers to share their prices on an open, real-time basis, meaning that drivers can easily compare prices in any area of the UK. In doing so, drivers will be more able to find the cheapest fuel at any given time, which in turn will increase incentives on retailers to compete hard on price and make it easier for consumers to identify where they are not doing so."
Intentions
The aims are commendable. A competitive retail fuel market should mean consumers are empowered to vote with their feet – or wheels, in this case. But is it an accurate diagnosis to say that the market's competitive intensity has weakened? And if this were the case, is data transparency likely to lead to a higher frequency of price change? If so, is this a good thing?
Let's consider data availability and fuel price volatility on the continent and further afield.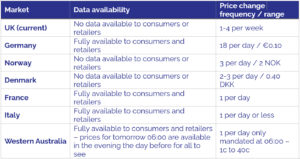 Full availability of pump price data enables retailers to gain a holistic and accurate understanding of elasticity so that they can build their pricing strategy and corresponding tactics.
For this reason, at Kalibrate, we always appreciate a complete dataset (although we have AI tools to help clients mitigate incomplete datasets too!), but we are not seeing a causal association between the availability of pump price data, and both stable and low price dynamics for consumers.
The table above lists some markets, along with their pricing data availability and a description of the price change frequency and range. It is very evident that there is a lot of diversity in pricing dynamics, and that this is not wholly associated with data availability.
What will a live price tracker look like?
One thing we don't have visibility on yet is exactly how live prices will be delivered to the end consumer. In France, the government maintains a website – the data is also used by third parties to deliver within their own mapping tools. Australia is a slightly more 'locked down' mode of delivery in which requests are limited by the number of queries and to specific locations. Germany has public data on live prices but has extremely volatile fuel prices – as a metric, German fuel retailers typically change price 18 per day to Australia's limit of 1 change daily.
Given the variation in data collection and delivery to consumers, it's difficult to quantify what (if any) impact live fuel prices have had on consumer behavior or retailers' pricing by looking at examples abroad.
Unintended consequences
One possible flaw in the CMA and Govt's interpretation is that they have looked exclusively at gross margin on fuel to deduce that savings are not being passed to consumers. This is likely an oversimplification. Fuel retailers still have significant energy costs and associated ancillary spending like any other business – wages, recruitment, retention, operations – all of which has increased in recent years.
In reality, margin on fuel is often a small percentage of a retailer's profit – fuel margins could be up while site profitability reduces purely because margins on convenience or grocery spend are squeezed elsewhere. This could affect the viability of the site, limit consumer choice, and reduce market coverage. The approach of looking at absolute fuel margin fails to consider how different types of fuel retailers operate in terms of their revenue lines. For example, urban vs rural sites, supermarket vs motorway/service station vs convenience stores all drive different types of revenue and have significant variations in underlying operating costs.
An additional factor to consider is if the reporting mechanism for retailers is inefficient. So far, the Government is yet to specify exactly how it will gather live prices from sites. A process that is cumbersome or involves significant manual processes is likely to simply add more costs to consumers. While those operating at scale will have the resources to implement at limited cost, it's likely smaller operators and independents will need to invest in either personnel or technology to comply. Conversely, supermarkets tend to operate with the smallest margins already. In either instance, poor delivery or data collection that incurs costs could end up hitting the pump price, undermining the Government's objectives.
Takeaways
Until we have further detail on exactly how prices will be collected and delivered to consumers, it's difficult to say exactly what impact the CMA proposals will have. By focusing on absolute fuel margin, the approach is prone to ignoring the myriad other factors driving retailers' cost base, revenue streams, and site profitability. If complying with the proposals data collection requirements brings additional costs to retailers, it's unlikely the Government will achieve its objective of lowering prices at the pump for consumers.
Subscribe and get the latest updates
You may unsubscribe from our mailing list at any time. To understand how and why we process your data, please see our Privacy & Cookies Policy
Start your journey to more informed decisions today
Get in touch to see how Kalibrate could empower your decision-making.