Market spotlight: Greater LA Infographic and Insights
Kalibrate's Greater Los Angeles market study has revealed vital information for anyone with an investment in gas stations within the area. Are you planning a new build location, choosing which brand to fly, or investing in site improvements in Greater Los Angeles? Read on for local market insights.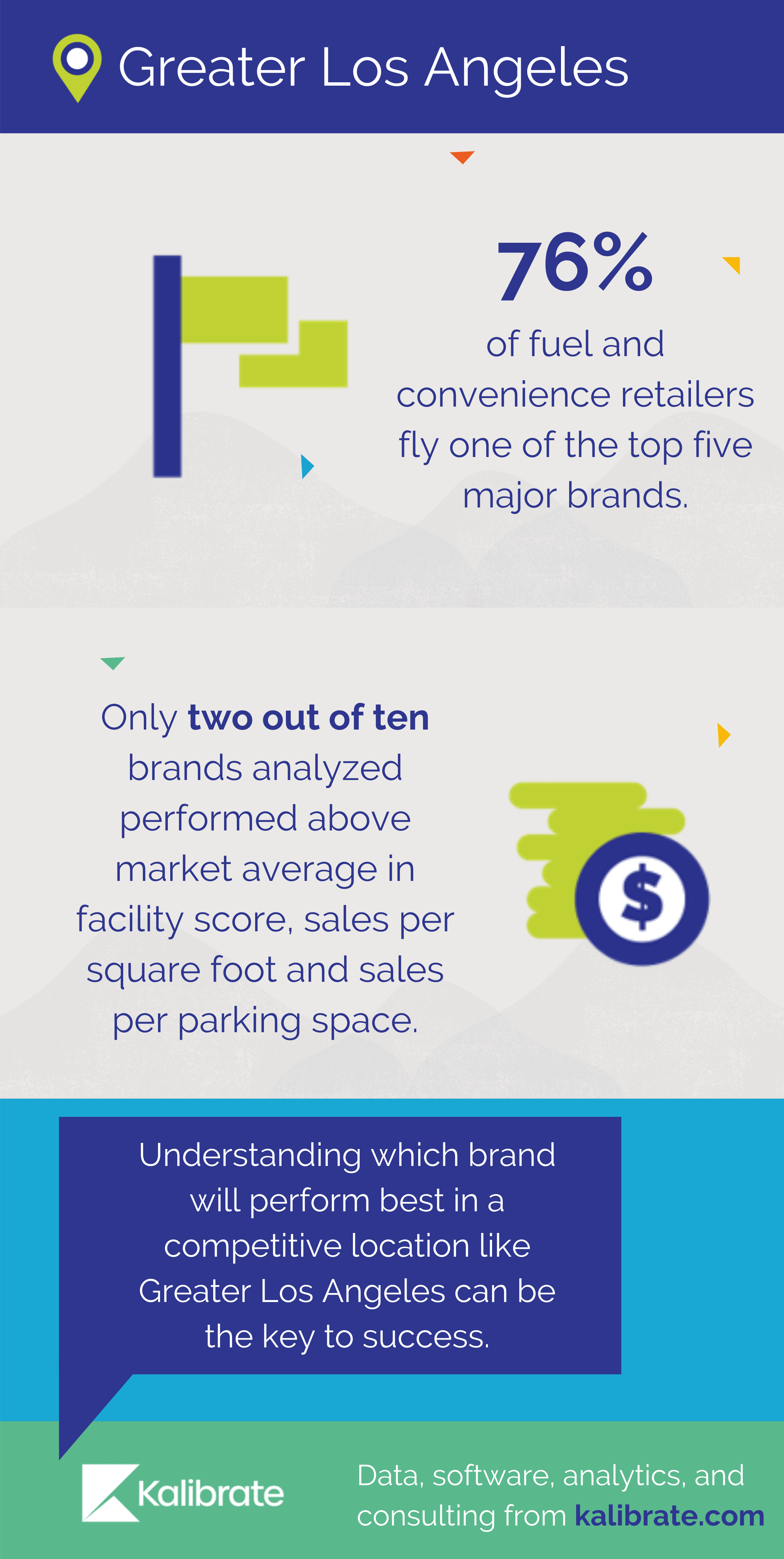 Choosing the right brand is vital in Greater Los Angeles.
The brand you choose to fly influences consumer decisions and impacts your overall volumes and sales.
76% of fuel and convenience retailers in Greater Los Angeles fly one of the top five major brands. But only two out of ten c-store brands analyzed performed above market average in facility score, sales per square foot, and sales per parking space.
The impact of brand is difficult to project without access to local business insights and market data. For a fuel and convenience retailer, understanding which brand will perform best in a specific location can be the key to success.
Hear from Gaby Jabbour, a fuel and convenience retail owner from Southern California about how he facilitates branding negotiations with major oil companies.
_____________
Kalibrate has new competitive retail outlet surveys for Greater Los Angeles.
The insights can be used to forecast the impact on volume potential under different brands. You'll get detailed results based on different scenarios, alongside clear commentary and suggestions on how to maximize potential.
The data is already collected, so this will save you the time, and the cost, of sending a surveyor to the area.
Tell us the attributes of your site or potential site and our model will forecast your volume potential and how it changes in different scenarios.
Subscribe and get the latest updates
You may unsubscribe from our mailing list at any time. To understand how and why we process your data, please see our Privacy & Cookies Policy
Start your journey to more informed decisions today
Get in touch to see how Kalibrate could empower your decision-making.